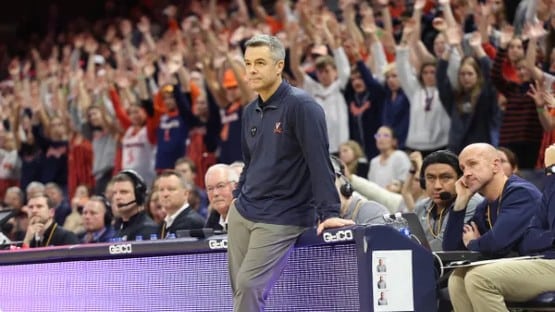 Boston College took the lead for good with just under 10 minutes to go in the first half on its way to a convincing 63-48 win over #6 Virginia on Wednesday.
Hard as it is to figure, Virginia never got closer than five in the second half.
BC was never not in control after the first 10 minutes.
For Virginia, which had been playing with fire a bit late, skating past Duke in OT two weeks ago, then escaping ACC bottom-feeders Louisville and Notre Dame in narrow wins last week, it was a little bit more of the same in terms of subpar play, just with a different result.
Virginia coach Tony Bennett, not mincing words, said, forcefully, that his team "got thoroughly outplayed" in the loss to Boston College on Wednesday.
"Credit to Boston College, they really played hard," Bennett told reporters after the loss. "They were physical, offensively and defensively, how hard they cut, moved, attacked the lane, and then defensively, they pressured the ball, and they just got after us. And it was one of those games where you knew you were going to have to work to get open, you know, knock down some tough drives, and just be good. And then defensively, you're gonna have to make them earn. And, you know, we made some, whenever we got to certain spots, we made some unsound decisions, and we just couldn't absorb it."
Virginia shot an anemic 32.2 percent in the loss, and the 48 points is a season-low.
It wasn't just that the shooting was off, according to Bennett.
"I didn't even think we got great looks," Bennett said. "Usually we're getting good looks, but their defense took us out of some quality looks. So that was a problem. And yeah, for sure, playing with fire, I don't know what the right word is, but we've got to try to figure out how to just find a way to, you know, get out of some of those the shooting slumps and be ready start to finish."
Virginia had been able to withstand bad shooting nights by getting to the rim, but even that wasn't working well for the Cavaliers at BC.
Virginia got 22 shots at the rim, layups or dunks, and made just eight of those shots.
"For sure, credit to their defense, and on-ball defense or help defense, and just their physicality," Bennett said. "And when we did get there, we had a hard time finishing, and they did a good job of challenging or contesting our shots. And, you know, we just kind of went in there sometimes, it looked like we just hoped, you know, threw them up there and hoped it was going in, and you've got to either, you know, play off to draw a foul or make the next pass or attack and finish. (Viagra) "
The loss should serve as a wake-up call to a team that has been just getting by for a while now.
"There are very few teams who have a big margin for error in the country," Bennett said. "Our guys have done a terrific job to put ourselves in this spot, but our margin has been very thin, you know, last couple games against, you know, Notre Dame and Louisville are talented, but they've struggled. And we've had, you know, close, close games, and we've been in so many close games this year, and we've been fortunate to win, obviously, the majority of them, but we have not shot the ball well, whether it's finishing or, you know, sometimes even at the free throw line."