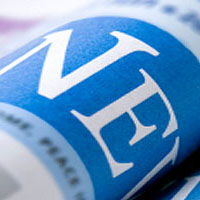 The University of Virginia Board of Visitors voted in the early-morning hours to name Carl P. Zeithaml as interim president of the university. He will assume that position effective Aug. 16.
Zeithaml, long-time dean of the McIntire School of Commerce, will take a leave of absence from that post during his tenure as interim president.
"Carl Zeithaml is the perfect choice to serve as interim president while we undertake a national search for a new president," said Helen Dragas, rector of the university, and the chief engineer of the palace coup that led to the forced resignation of President Teresa Sullivan.
"I want to thank the U.Va. family for enduring the tumult of this difficult week. It has been exceptionally trying for all of us, and we accept our great share of responsibility for that," Dragas said. "As we look forward to the transition to new leadership at the University, our community can rest assured that it will have a great deal of input."
There had been hope among faculty and staff members and other supporters of Sullivan that the Board of Visitors meeting that began midday Monday would end in a reversal of the effort initiated by Dragas that led to Sullivan's ouster.
Instead, the long day ended with the appointment of Zeithaml and a long statement from Sullivan, who will step down on Aug. 15 after just two years on the job, defending her from Dragas and other critics on the Board of Visitors.
"I have been described as an incrementalist. It is true," Sullivan said. "Sweeping action may be gratifying and may create the aura of strong leadership, but its unintended consequences may lead to costs that are too high to bear.
"There has been substantial change on Grounds in the past two years, and this change is laying the groundwork for greater change. But it has all been carefully planned and executed in collaboration with Vice Presidents and Deans and representatives of the faculty.
"This is the best, most constructive, most long lasting, and beneficial way to change a university. Until the last ten days, the change at UVA has not been disruptive change, and it has not been high-risk change," Sullivan said. "Corporate-style, top-down leadership does not work in a great university. Sustained change with buy-in does work. UVa. is one of the world's greatest universities."