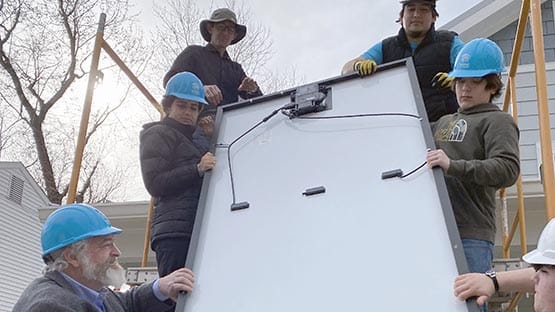 Habitat for Humanity Virginia has teamed up with GiveSolar on a two-year project to install up to 80 solar energy systems on homes in Virginia and Washington, D.C.
The project was made possible by a donation of $500,000 from the American Institute of Architects.
"The AIA donation was critical for launching this project," said Jeff Heie, director of GiveSolar.
AIA made the donation in order to meet their goal to offset the embodied carbon emissions resulting from the AIA Headquarters renewal project in Washington, D.C.
GiveSolar and Habitat Virginia have partnered with regional solar installers around the state to carry out the solar installations on Habitat homes.
These partners include:
Green Hill Solar (Harrisonburg)
Convert Solar (Virginia Beach and Richmond)
Tiger Solar (Charlottesville and Staunton)
Affordable Energy Concepts (Lynchburg)
Baseline Solar (Blacksburg)
The first solar installation using the AIA donation took place on Feb. 24 in Warrenton. A 5.04 kilowatt solar system was installed on a home that was recently constructed by Fauquier Habitat for Humanity. High school students from Flint Hill School in Oakton volunteered to help lift the solar panels up to the roof.  A professional crew of solar installers from Virtue Solar, a solar company based in Charlottesville, worked with the high school students to complete the solar installation.
Working to develop 'a sustainable model'
A 2022 study by the Lawrence Berkeley National Laboratory found that the median income for U.S. households that installed solar in 2021 was $110,000. Comparatively, the 2021 median household income of all homeowners in the U.S. was $79,000.  According to the U.S. Census, the median household income in Virginia was $80,615 in 2021 dollars (for 2017 to 2021).
Most Habitat households in Virginia earn less than $45,000.
"We are working to develop a sustainable model of installing solar on all Habitat homes in Virginia that have an appropriate roof for solar," said Overton McGehee, Executive Director of Habitat for Humanity Virginia. "This is a challenging problem to solve and requires innovative approaches to making solar more affordable for households with low income. By the end of this two-year project, we hope to have a robust model for the future."
Savings projected from solar panels
A 5 kilowatt solar system (which consists of 12 to 14 solar panels) saves a Habitat household an average of $65 to $75 per month on their electric bill.
In many Virginia regions, customers have faced a 30 percent rise in the cost of electricity over the last two years due, in large part, to the rising cost of fossil fuels used to generate electricity.
Solar systems will protect Habitat families from this electricity rate inflation for the next 25 to 30 years, the expected lifespan of a solar system.
More information
Habitat for Humanity Virginia is the affiliate support organization for the 39 Habitat for Humanity affiliates that operate in Virginia and Washington, D.C.
GiveSolar is a non-profit social impact organization that assists homeowners with low income and non-profit organizations in gaining access to solar energy.