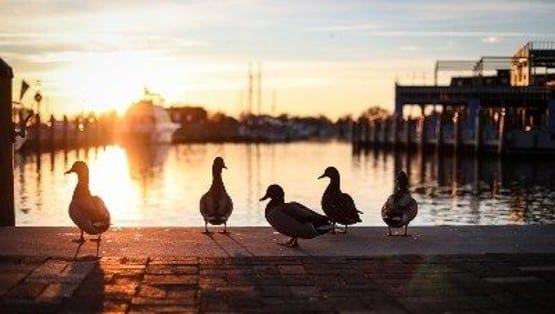 More than 150,000 streams and rivers thread through the Chesapeake Bay's 64,000-mile watershed.
The largest estuary in the United States, the Chesapeake Bay watershed is home to 18 million individuals living in Virginia, Maryland, Pennsylvania, Delaware, New York, West Virginia and Washington, D.C.
U.S. Sens. Mark R. Warner and Tim Kaine of Virginia, along with Bed Cardin and Chris Van Hollen of Maryland, Bob Casey and John Fetterman of Pennsylvania and Joe Manchin of West Virginia introduced legislation today to protect the watershed, improve ecosystem management and increase environmental stewardship.
Companion legislation was introduced in the U.S. House last week by U.S. Reps. John Sarbanes of Maryland, and Bobby Scott and Rob Wittman of Virginia.
The Chesapeake Bay Science, Education and Ecosystem Enhancement (SEEE) Act aims to restore the health of the watershed, strengthen fisheries management and expand environmental education programs for residents.
"The Chesapeake Bay is not only an important recreational and ecological treasure, it's also a vital economic engine for Virginia," Warner said. "I am proud to reintroduce this legislation supporting NOAA's Chesapeake Bay office to improve the health of the Bay and ensure its sustainable use for generations to come."
Kaine said the Bay is "a natural treasure that drives tourism and boosts our economy. I'm proud to introduce this bill to leverage collaboration with universities, nonprofits, and other stakeholders to protect the Bay's ecosystems and help ensure Americans can enjoy it for years to come."
According to Cardin, it is the responsibility of humans "to do all we can to restore its health remains a top priority. The National Oceanic and Atmospheric Administration (NOAA) is an indispensable partner in the Chesapeake Bay Program, leading the partnership's fisheries, environmental literacy, climate resilience and habitat restoration work. I'm proud to work with my Bay watershed colleagues to secure NOAA's strong presence in our region to meet the challenges ahead."
"A cleaner Chesapeake Bay is essential to the success of our state's economy and the health of our environment. This legislation will help ensure we can continue to count on NOAA's expertise and other crucial partners at the Chesapeake Bay Office and environmental education programs that have supported Bay restoration efforts over the years. It is a key part of our all-hands-on-deck fight to protect and preserve the Bay for generations to come," Van Hollen said.
The watershed includes multiple counties in West Virginia.
"I look forward to working with my colleagues on both sides of the aisle as we work to reauthorize the NOAA Chesapeake Bay office and the programs they support to benefit the habitats in our state and across the Chesapeake Bay region," Manchin said.
The Chesapeake Bay SEEE Act would:
Reauthorize the NOAA Chesapeake Bay Office (CBO), a key partner of the Bay Program and leader of the Program's fisheries, environmental literacy, climate resiliency, and habitat work. The bill would allow NOAA CBO to collaborate with universities, nonprofits, and other Bay stakeholders to promote integrated coastal observations – such as monitoring and observing restoration activities, collecting and analyzing marine resources data – and information sharing to assist policymakers, resource managers, and the public.
Direct NOAA to support coordinated management, protection, characterization, and restoration of Bay habitats and living resources, as well as the Interpretive Buoy System along the Capital John Smith Chesapeake National Historic Trail.
Authorize the Chesapeake Bay Watershed Education and Training (B-WET) program, which awards educational grants related to Bay restoration.