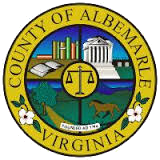 On Sunday, Seminole Trail Volunteer Fire Department officials were joined by members of their Board of Directors and Albemarle County officials at a grand opening and dedication ceremony celebrating the completion of the new station.
This ceremony marks the completion of the 7,500 sq. ft. addition and full renovation of the existing 7,500 sq. ft. facility. Enhancements include expansion of living quarters, bringing the existing facility up to code, and the addition of several flexible spaces that can be used for training, meeting, or conducting study sessions. Additionally, a two-bay edition was added, which allows for more room for existing apparatus and will accommodate expansion for future units.
Further amenities include an emergency generator which is capable of running the entire station and which will allow the station to serve as an emergency shelter if needed. Seminole Trail is ADA compliant and includes a new elevator. A state of the art alerting system is installed which provides information to the volunteers to help them be better prepared for their calls. A small gymnasium was added to help staff stay in shape and a brass fire pole was installed that volunteers actually use to access the fire trucks.
Seminole Trail Volunteer Fire Department is the busiest fire/rescue station in the County, as well as one of the largest. Its original building was constructed in the mid-seventies when the station responded to around 100 calls/year. Today, the station responds to over 2,000 calls for service. Seminole Trail often has an on-duty force of 15 or more volunteers that staff the station nights and weekends. The previous building could not accommodate such a large turnout – causing many to sleep on couches and cots.
"We're very proud to see this project completed," said Department Chief Daniel Tawney. "Seminole Trail's first due area serves an area of dense residential and commercial development – a front line in protecting our County's residents and businesses."
"We appreciate the critical contribution that Seminole Trail Volunteer Fire Department makes in providing emergency services to County residents," said Albemarle County Fire Chief Dan Eggleston. "We congratulate them on this very well deserved and necessary expansion of their facility."