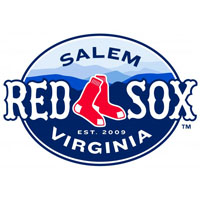 The Salem Red Sox beat the Lynchburg Hillcats 6-1 on Friday night at LewisGale Field, waiting through a 58 minute rain delay to get the W. Kyle Kraus got the win in relief, going four and two thirds, allowing just three hits and a run. Lucas Sims picked up the loss, allowing two runs in his lone inning. Both starters were forced to leave the game after the 58 minute delay. Sox starter Pat Light went two innings without allowing a run.
The Sox scored in the first inning for a fifth straight game. Matty Johnson led off with a walk, and reached second on a wild pitch from Sims. He moved to third on a fly out by Mike Miller, and scored on another wild pitch to give the Sox a 1-0 lead.
Salem struck again in the second. Tim Roberson led off with a triple. Then after the delay, Ryan Dent grounded out off new Cats pitcher Ronan Pacheco, which scored Roberson to make it 2-0.
The Sox added two in the fourth. Aneury Tavarez led off with a single to left, and reached second on a throwing error on a pick off attempt. Then Dent singled which set up first and third with no one out. Pacheco would balk in a run to make it 3-0, and Dent moved to second. He was bunted to third by Guerrero and scored on a sacrifice fly by Johnson.
Salem started the fifth inning with a one out walk by Kevin Heller. Another wild pitch allowed Heller to reach second, and Tim Roberson doubled, moving Heller up to third. Tavarez hit a ground ball to second, but the throw home by Eric Garcia was late and the Sox took a 5-0 lead. Roberson would come home after Cats catcher Tyler Tewell's throwing error on a steal attempt by Tavarez.
Lynchburg added their lone run in the seventh. Kevin Ahrens walked with one out and scored on a double by Daniel Carroll.
Salem goes for the series win tomorrow night in game three of four of the first half-ending series. Corey Littrell goes for the Sox. Greg Ross gets the ball for the Hillcats. First pitch is at 6:05.