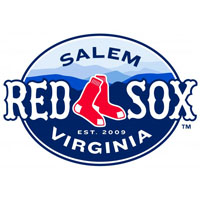 Carlos Asuaje recorded five hits over two games on Wednesday night, and the Salem Red Sox mustered a clutch comeback to earn a split of their doubleheader in Frederick. The Sox dropped the opener 3-1, a consequence of the Keys' three-run first inning, while Salem rallied from a 4-1 deficit to grab a 5-4 triumph in the nightcap.
The Keys collected three runs in the first inning against Heri Quevedo, taking advantage of back-to-back walks to begin the frame. Chih-Hsien Chiang smacked an RBI double into the gap, and Tucker Nathans followed with an RBI single that gave the Keys a 3-0 advantage.
The Sox mustered just one run on five hits against the Frederick southpaw Steven Brault, who went the distance to improve to 2-0 in two starts with the Keys. Over seven innings, Brault struck out six and only walked one.
The second game was marred by baserunning blunders and defensive goofs. The Sox lost four runners on the bases in seven innings, yet still had enough good fortune to surpass the Keys, who made four errors in the contest. Down 4-1 after four innings, the Sox plated a pair in the fifth, tied it in the sixth, and surged ahead in the top of the seventh.
Asauje went 4-for-4 with three doubles in the nightcap, racing home to score the go-ahead run when Keys' reliever Dylan Rheault wildly threw Reed Gragnani's bunt bid down the right-field line. An inning prior, Mario Martinez reached on shortstop Adrian Marin's throwing error, and he scored when Jose Vinicio's hard bouncer clipped off the pitcher's glove and was ruled an infield hit.
Salem could have won 15-4 instead of 5-4 by cashing in on more opportunities. The leadoff man reached in six of the seven innings in the nightcap, although only once with a hit. There were two errors, two hit-batters, and one walk that gave the Sox baserunners with nobody out.
Matty Johnson walked in game one and tripled in game two, extending his consecutive games on base streak to 29, giving him the longest streak in the Carolina League in 2014.
With Salem's split and Carolina's loss against Lynchburg, the Sox gained a half-game and now lead the Mudcats by one game in the race for the final playoff spot. Over the next five days, the Sox have six games left, while the Mudcats have five, and any combination of Salem wins and Carolina losses that equal five will clinch a playoff berth for the Sox.
Salem's series in Frederick continues on Thursday, with Cody Kukuk taking the mound for the Sox opposite Keys' righty Sebastian Vader. First pitch at 7 PM.