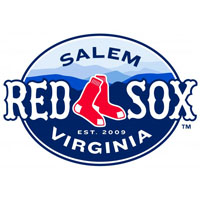 Reed Gragnani collected four hits, Luis Diaz dialed in for five dominant innings, and the Salem Red Sox kept up their winning ways with a 5-2 triumph over the Pelicans on Saturday night at TicketReturn.Com Field.
The defending carolina league champs, who finished 2013 with 11 consecutive victories, improved to 3-0 in the new season, the only squad in the circuit to remain undefeated in 2014. On Sunday, the Sox will seek a series sweep and a 15th straight win, which would set a new franchise record and move Salem within one victory of the 1950 Winston-Salem Spirits, who won 16 games in a row to establish a mark that has stood for 64 years.
Facing Texas' top draft pick from 2013, the Red Sox offense scored three times in the first inning and led wire-to-wire, handing highly-touted prospect Chi Chi Gonzalez the loss. Matt Gedman drilled a two-run double into the left-field corner to get Salem on the board, and Gragnani's first single plated Gedman to make it 3-0 after half an inning.
Meanwhile, Diaz established his mid-90s fastball quickly, setting down 14 of the first 15 batters he faced. In five efficient innings, Diaz tossed 40 of his 58 pitches for strikes and permitted only three singles, showing an improved curveball that helped him strike out three. In relief, Justin Haley piggybacked and flashed signs of brilliance. Although he yielded one run in the sixth and another run in the eighth, he fanned the side in the seventh, racking up four strikeouts in his three innings on the hill. Kyle Kraus emerged in the ninth and did not allow a hit in pursuit of the save.
Salem scored its second run thanks to Matty Johnson's sensational speed. With one out in the fourth, Johnson's dribbler to the mound was misplayed by Gonzalez, with Johnson reaching safely on an error. He moved to second on Ryan Dent's single, took third on a pitch that squirted slightly away from Myrtle Beach catcher Jorge Alfaro, and easily sprinted home when Alfaro's daring throw soared into left field. This fourth inning sequence accounted for two of Myrtle Beach's four errors in the game.
The Sox added insurance in the ninth with Gragnani driving in Mario Martinez to make it 5-1. Martinez finished 3-for-5 with a double, but Gragnani was Salem's offensive star, going 4-for-5 with two RBI. In two games, Gragnani has gone 6-for-9, with all three outs coming on sharply hit line drives. Gedman and Dent each added a pair of hits for the Sox, who compiled a series-best 12 knocks on the night.
Winners of 14 games in a row–Salem's last loss occurred in a seven-inning game on August 28, 2013–the Sox will look to make history on Sunday afternoon. The 2006 Salem Avalanche also won 14 straight games, but no Roanoke Valley ballclub has ever won 15 straight.
Salem will send lefthander Corey Littrell to the mound for his carolina league debut opposite Myrtle Beach's Sam Wolff, with the first pitch slated for 3:05 PM.