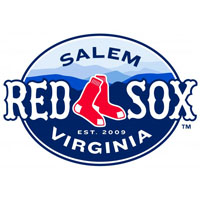 Franklin Guzman homered twice and the Salem Red Sox hung five runs in the top of the fourth on their way to a 6-5 victory over the Lynchburg Hillcats on Tuesday night at Lynchburg City Stadium.
The big fourth frame began with a bunt and a blast as Mike Meyers bunted his way aboard and Guzman blasted a two-run bomb deep to left-center. Deiner Lopez then dragged a bunt single to the third base side and moved to second on a Carlos Coste walk. Mauricio Dubon followed by driving in Lopez with a double to right-center, followed by a Yoilan Cerse double that scored Coste and Dubon. The five-run inning gave Salem a 6-2 lead.
Lynchburg got on the board first with an unearned run in the first inning. Clint Frazier smacked a two-out double and then scored when Joe Sever drove a ball toward right-center. Meyers eased his way toward it, but the ball glanced off of his glove for an error, resulting in an unearned run and a 1-0 Lynchburg lead.
Guzman provided the offense in the second with his first home run, tying the game at one. Sicnarf Loopstok answered in the bottom of the frame with a solo shot of his own, putting Lynchburg back on top 2-1.
The Hillcats loaded the bases in the sixth with three singles off of Teddy Stankiewicz, who then walked Loopstok, scoring Sever from third. Stankiewicz was lifted in favor of German Taveras, leaving the bases loaded with nobody out. Taveras allowed one inherited run to score on a sacrifice fly from Claudio Bautista, but got Ivan Castillo and Bobby Ison to ground out, ending the inning with a 6-5 Salem lead.
Stankiewicz (4-11) picked up his first win since July 3 with five runs, four earned, allowed on eight hits with three strikeouts. Mitch Brown (9-12) took the loss thanks to six runs against on seven hits with three walks and six strikeouts in four innings.
Taveras went three shutout innings with two strikeouts and only one hit allowed. Chandler Shepherd worked around a walk and a throwing error in the ninth for his sixth save.
Guzman led the way with a 3-for-4 effort including the two home runs, a single, a walk and three RBI. He became the first Salem hitter with multiple homers in a game this season and first since Kevin Heller completed the feat on May 24, 2014.
Dubon was 2-for-5 with a double and a run scored, Cerse went 2-for-4 with a walk, a double and two RBI and Deiner Lopez finished 2-for-5 with a run scored. Salem improved to 61-72 and 23-40 in the second half while Lynchburg dropped to 70-64 and 37-27.
The series continues Wednesday at 6:30 p.m. with Salem trotting out Kevin McAvoy (10-9, 3.93) against Lynchburg's Dace Kime (3-7, 4.46). Fans can listen to the game on 1240 AM ESPN Roanoke, online at salemsox.com or via the TuneIn Radio app.