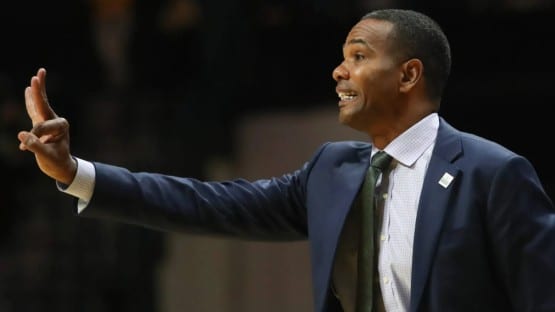 Ron Sanchez is back at Virginia, with Tony Bennett announcing Tuesday that Sanchez has rejoined his staff as an associate head coach.
Sanchez, who left UVA for the head-coaching job at Charlotte in 2018, was reportedly one of two finalists for the opening on Bennett's staff.
That opening was created when Kyle Getter, who had been a full-time assistant at Virginia the past two seasons, left to take the associate head coach job at Notre Dame in April.
Sanchez has a long history with Bennett, dating back to their days at Washington State, where Bennett was the head coach from 2006-2009, and even further back than that – Sanchez was director of basketball operations under Dick Bennett, Tony's father, at Washington State, while Tony served on Dick's staff as an assistant.
At Charlotte, Sanchez inherited a program that had gone 6-23 in 2017-2018 and had things turned around by Year 2 to post a 16-13 record.
His 2022-2023 team finished 22-14, and was crowned the champion of the 2023 Discount Tire College Basketball Invitational.
"We are thrilled to welcome Ron and his family back to the University of Virginia," Bennett said. "Ron played an integral part in building this program and was a pillar in the community. He is an outstanding recruiter and coach, and really connects with student-athletes. Ron's last five years as a head coach enhances what he will bring back to our basketball program."
The return of Sanchez adds to an already veteran staff that is also heavy on guys from the Dick Bennett-Tony Bennett coaching tree.
Jason Williford, who was promoted to associate head coach after Sanchez left for Charlotte in 2018, has been with Bennett since Bennett was hired at UVA in 2009.
Both Williford and Sanchez will serve as associate head coaches under Bennett, an athletics department spokesman confirmed to AFP.
Brad Soderberg, the third full-time assistant, has been on the staff at UVA for eight seasons, and Soderberg's ties to the Bennetts go back to a six-year stint that he served at Wisconsin under Dick Bennett from 1995-2001.
Two additional full-time positions will come open on July 1 with the NCAA allowing college basketball coaches to have a total of five full-timers on the staff beginning next season.
The thinking from those connected to the program is that Bennett will likely want to fill those positions from within, with former UVA player Isaiah Wilkins reportedly a favorite to land one of the two new full-time spots.
The return of Sanchez would seem to be a guard against the possible future loss of Williford, who has been connected, at least via the rumor mill, to several head-coaching openings in recent years.
Williford, at some point, is going to get an offer that he can't refuse, and wouldn't want to, assuming he would want to be in the running, down the road, to replace Bennett, which is obviously going to have to happen at some point, that Bennett is eventually going to step down – hopefully not too soon, but still.
Sanchez, yes, with his experience at Charlotte, has a leg up on Williford in that respect.
But that's a ways off, we hope. In the here and now, Bennett has maybe the deepest and most experienced staff he's ever had, which will be a huge plus heading into the upcoming season, with a deep and talented roster that will need some work, with a flood of newcomers from the prep ranks and the transfer portal to assimilate into Bennett's intricate offensive and defensive systems.
Sanches, unlike an outside candidate, will not need on-the-job training to get up to speed on how Bennett likes to do things.
"The University of Virginia is truly special to me and my family," Sanchez said. "It is the only institution I would vacate my head coaching position for. I'm thankful for the opportunity to return to Grounds with a new-found lens and perspective.
"I'm also excited to reconnect with the staff and join their efforts in sustaining the incredible success this program has had over the last decade. I look forward to serving Coach Bennett, the staff, the student-athletes and our community."