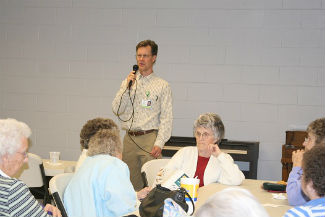 Oscar Larson, occupational therapist with RMH Rehab Services, spoke to 29 East Rockingham Senior Center members and two volunteers on April 8.
His presentation, "Gadgets and Gizmos for Daily Life," was met with much enthusiasm as Mr. Larson asked the audience the types of items they used as a child and concluded with the types of 'gadgets' folks use in adulthood.
This was Mr. Larson's first visit to ERSC, but other occupational therapists have visited the Center, providing guidance as to the types of devices that are available to assist with activities of daily living (ADLs). Mr. Larson's discussion involved much interaction with the audience and was very well received. Prior to his departure, he also provided a catalog that offered a very detailed listing of devices that could be ordered to assist with daily activities.
Mr. Larson's visit was set up by Judy Jenkins of RMH, who was contacted via email by the ERSC Director several months ago.
More online at www.EastRockinghamSeniorCenter.org.