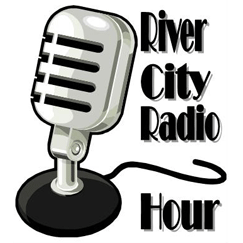 The River City Radio Hour will begin its eighth season on September 18 at 7:30 pm at the Main Street Methodist Church at 601 West Main in downtown Waynesboro.
The River City Radio Hour began in 2007 and is an hour-long show based on the formats of the radio variety shows of the 1930s and 40s.  "Keillor and I stole the same format," Clair Myers likes to say.  The Radio Hour combines music, comedy and drama for its monthly presentations.
The September performance will feature many of the Radio Hour favorites.  The Boogie Kings will again serve as the "studio" band with William Hayes flying across the keyboard  while supported by J. T. Fauber on percussion and Richard Adams on every other instrument possible.
Marsha Howard will again serve up a dipper of "wholesome" humor.  "It's so amazing to me that I've been performing for the Radio Hour since it began in 2007.  Knowing I've been a small part of the effort to re-open the Wayne Theatre is genuinely exciting. I am so happy to kick off the eighth season."
Lorie Strother, the Dread Blues Lady, will each bring her special talent to the Radio Hour stage.  Strother has been appeared off and on over the full eight years of the Radio Hour. Since that initial performance, she has gained recognition for her stylish renditions of blues across the region and the East Coast.
Also on the opening performance will be Mike D'Antioni and Joy Kushar known as 2 Wishes.  When they met and sang together, it was instant musical harmony! Since then, they have become "2 Wishes," singing and playing at events around Virginia.  The music of choice is jazz, including Bacharach and David hits, 50's and 60's music, original compositions, plus rock, country and soul tunes.
The September 18th Radio Hour will begin a new serial.  In the 30s, the use of eminent domain allowed the government to build the Shenandoah National Park and the Skyline Drive.  It also disrupted the lives of those who lived on the Blue Ridge.  Their story and that of the CC Boys who built the park and drive are plot of Shenandoah Moon.  The serial will be based on the full length play commissioned by the Wayne Theatre Alliance.
Completing the list of new "drama" is one of Richard Adams' tour de force.  His latest is a dialogue between God and a WTA employee about the development of electronic communication. Who would have thought that smiggles and middlers would lead the way to the i-pad.
Admission to the September 18th River City Radio Hour is Pay-What-You-Will at the door with open seating.  There are no advanced reservations.
For more information call the WTA office at 540-943-9999 or visit the Wayne Theatre website, www.waynetheatre.org