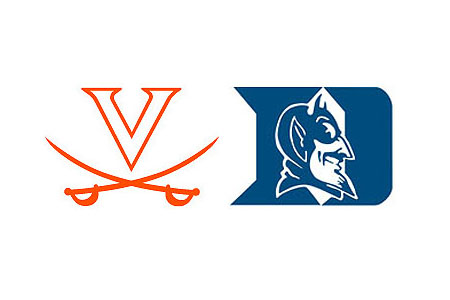 Remember when it was shameful to say that your football team lost to Duke? Entering the 2008 season, UVA football owned Duke, as to that point the rest of the ACC had, with Virginia having won 17 of the last 19 in the series. Which made the 31-3 beatdown that the Blue Devils handed to the 'Hoos in '08 so shocking.
Since 2008, Duke is 5-1 against Virginia, the lone win for the Cavs coming in their last winning season, in 2011, when UVA topped Duke 31-21.
It looked like fortunes were about to reverse in 2013 when the Cavaliers jumped out to a 22-0 second-quarter lead, but Duke dominated the second half en route to a demoralizing 35-22 win in Scott Stadium.
The odd thing to that one, from an overview perspective, is that the 22-0 lead seemed to be the part of that game that made no sense, not the rally. Duke was on its way to a 10-win season, an ACC Coastal Division title and a Chick-fil-A Bowl berth; Virginia was on its way to a 2-10 season that almost got its coach, Mike London, canned.
Heading into their 2014 matchup, this Saturday in Durham, the two teams are for once in recent memory matching up somewhat as equals. Duke (5-1, 1-1 ACC) is coming off a 31-25 win over then-#22 Georgia Tech in Atlanta on Saturday, a nice bounceback game from a listless 22-10 loss two weeks ago in Miami.
UVA (4-2, 2-0 ACC) finds itself in a rare position early in its ACC schedule, alone atop the Coastal Division after holding on for a 24-19 win over Pitt on Oct. 4. The 'Hoos will be playing their first ACC road game in 2014 this weekend, and just their second road game overall, with the odd unbalanced schedule having given them five home contests in their first six.
Wallace Wade Stadium is hardly the most difficult environment for ACC foes. Even on the heels of last season's breakout success, the Blue Devils have averaged just 25,538 fans for their three home games, about 75 percent of capacity. And it's entirely possible if the stadium is closer to the 33,941 capacity for Saturday's game that's it's a result of traveling Virginia fans as much as it is home fans coming out for what could be a pivotal game in the ACC Coastal race.
That much, unfortunately for the Duke football program, has not changed, even with the success.
– Column by Chris Graham