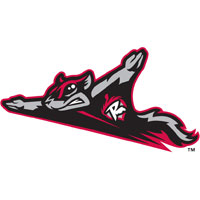 The Richmond Flying Squirrels (73-59) took a giant step towards the post-season by blanking the Bowie Baysox (66-65), 3-0, on Friday night at The Diamond.  With the win, the Squirrels clinched the season-series with the Baysox, thus earning the tie-breaker between the two teams.  That allowed the Squirrels to trim three off their playoff magic number, which now sits at four.                          
Right-handers Clayton Blackburn and Zach Davies traded zeroes through three innings.  A defensive error committed by second baseman Buck Britton opened the door for Richmond in the fourth inning however.  Elliott Blair reached on that miscue.  Blake Miller followed and flared a double into right-center field.  Blair raced around to score for a 1-0 lead.  An out later, Devin Harris cracked a double to left-center field to score Miller and Richmond held a 2-0 lead.
Richmond got back after Davies, and eventually chased him from the ballgame, in the sixth inning.  Miller sparked the inning with a single dumped into right field.  Davies then hit Mario Lisson to put two aboard.  Angel Villalona then sent a single right back through the box to score Miller and send Davies to the showers.
Davies (10-7) took the loss for the Baysox, working 5 1/3 innings.  He permitted three runs – two earned – on five hits.  He walked one, hit one and struck out seven.
Meanwhile, Blackburn (4-5) kept on dealing through seven innings.  He ran his consecutive scoreless inning streak to 15 innings, while also earning his fourth win of the year.  He allowed no runs on six hits, walked two and struck out nine.
Lefty Phil McCormick handled the eighth inning for the Squirrels, before right-hander Hunter Strickland closed the door in dominant fashion in the ninth.  Strickland struck out the side in order to earn his ninth save.  The shutout was the 10th of the year for the Richmond staff.
Game two of the three-game series is scheduled for 6:05 p.m. at The Diamond on Saturday night.  Richmond RHP Chris Stratton (1-1, 4.85) will make the start against Bowie RHP Eddie Gamboa (0-1, 4.50).  The Flying Squirrels Pregame Warmup will begin at 5:35 p.m. on Sports Radio 910 and SportsRadio910.com.