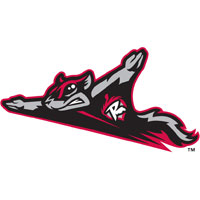 The Richmond Flying Squirrels, Double-A affiliate of the San Francisco Giants, are excited to announce the first ever Charity Big Gloves Boxing Throwdown on Saturday, May 17 at The Diamond.
Proceeds from this evening of punishment, punches and mayhem will go directly to Operation Renovation, a community impact project to renovate 12 Richmond area youth baseball fields. Tickets are $10 and will be available at www.squirrelsbaseball.com. Several matches for the event have been announced and are listed below. Additional matches will be announced soon. The Main Event features political power with a display of regional cooperation.
The official boxing ring will be placed near home plate and will include a referee and celebrity judges. The event runs from 6:00PM-8:00PM and Happy Hour drink specials will be available for the entirety of the Throwdown. Richmond.com has joined to be the event's media sponsor.
MAIN EVENT: REGIONAL COOPERATION
Hanover County Administrator "Of Punishment" Rhu Harris
Richmond Chief Administrator Officer Byron "Mauling" Marshall
UNDERCARD: ABV – ALL BREWER VIOLENCE
Strangeways Head Brewer "The Barbarian" Mike Hiller
Center of the Universe Head Brewer "The Chairman" Mike Killelea 
UNDERCARD: FEELING SQUIRRELY
Squirrels VP Todd "Parney" Parnell
Squirrels CEM Chuck "Duking" Domino 
UNDERCARD: MOUTHING OFF
VCU Rams Radio Voice Robby Robinson
Whoever Will Listen 
UNDERCARD: MASCOT MANIA DANCE COMPETITION
VCU's Rodney the Ram
U of R's WebstUR
Flying Squirrels NUTZY 
OPENER: ROADHOUSE
RMC Events Billy Gordan
RMC Events David Dillard
"This is another FUNN way we can get together for a positive force in the community, said Flying Squirrels VP and boxing undercard participant Todd "Parney" Parnell. "We are proud of all the participants who have stepped up to step in the ring for a charitable cause."
Gates will open at 5:30 with the first bout set to begin around 6:00PM.
"This event promises to be one of the most fun and unique times that you and your family and friends could have for a great cause," said Flying Squirrels CEM Chuck "Duking" Domino.
All proceeds will go directly to the Smooch-A-Pig Campaign and Operation Renovation – a dedicated community project to renovate 12 designated youth baseball fields in the Richmond area. Tickets are on sale now at squirrelsbaseball.com. Questions or suggestions for additional opening matches can be sent to Flying Squirrels Media Relations Manager Jay Burnham at [email protected]. The direct ticket purchase link is : https://www.ticketreturn.com/prod2/BuyNew.asp?EventID=111721#.U1k-FvldX76