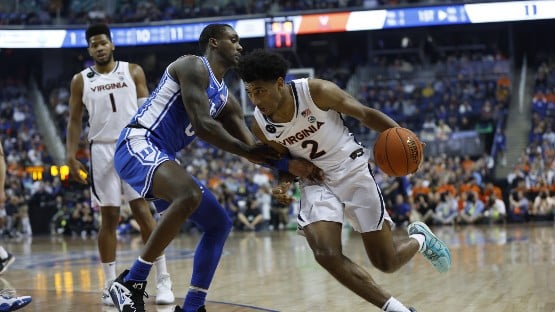 Reece Beekman played himself into being a mid-second-round NBA Draft pick the last couple of months. But he's returning to Virginia for his final college season to see if he can improve on that.
"I've decided to go back to UVA to work towards being a first-round draft pick next year and finish my degree," Beekman told ESPN on Wednesday, hours before the deadline to make his decision on the 2023 NBA Draft.
Beekman had declared for the draft back on March 30, and at the time he put his name into the draft pool, he was considered a borderline, at best, second-round pick.
His showing in pre-draft workouts and the NBA Draft Combine earlier this month improved his stock. ESPN had him rated as the 43rd-best player on its pre-draft big board.
The difference in being a mid-second-round pick and a first-rounder is pronounced – the difference between either a G League salary of $70,000, a non-guaranteed two-way NBA deal worth $500,000 a year or the $9.3 million guaranteed that the 30th pick in last year's NBA Draft, Peyton Watson from UCLA, signed for with the Western Conference champion Denver Nuggets.
Beekman is taking a gamble on himself that he can build on what he learned about himself, and what NBA teams learned about him, from the NBA Draft evaluation process.
He'll get a chance to shine in the spotlight with a revamped Virginia roster that should be considered a Final Four-ceiling team with him returning in the fall.
Beekman will anchor a Virginia team that will need to replace its three leading scorers – shooting guard Armaan Franklin (12.4 ppg, 42.4% FG, 37.3% 3FG), power forward Jayden Gardner (12.0 ppg, 5.8 rebounds/g, 51.0% FG) and point guard Kihei Clark (10.7 ppg, 5.4 assists/g, 39.9% FG, 35.2% 3FG).
Virginia also lost two key post guys, rising fifth-year Kadin Shedrick (6.2 ppg, 3.8 rebounds/g, 64.7% FG), who entered the transfer portal after losing his starting job in mid-January, and ended up at Texas, and grad transfer Ben Vander Plas (7.4 ppg, 4.6 rebounds/g, 41.2% FG, 30.3% 3FG).
Coach Tony Bennett and his staff landed two guys off the transfer portal who will likely start next fall: St. Mary's combo guard Andrew Rohde (17.1 ppg, 3.6 assists/g, 44.8% FG, 32.0% 3FG in 2022-2023) and Merrimack power forward Jordan Minor (17.4 ppg, 9.4 rebs/g, 51.5% FG), along with adding depth in Georgetown point guard Dante Harris (11.9 ppg, 4.1 assists/g, 37.5% FG, 27.5% 3FG in 2021-2022) and Oklahoma swingman Jake Groves (6.8 ppg, 43.8% FG, 38.1% 3FG).
Those four, plus rising sophomores Isaac McKneely (6.7 ppg, 42.3% FG, 39.2% 3FG), a 6'4" guard, and Ryan Dunn (2.6 ppg, 2.9 rebs/g, 53.2% FG, 31.3% 3FG), a 6'8" forward, rising junior Taine Murray and redshirt freshman Leon Bond, would have formed the nucleus of a top-tier ACC team next season without Beekman.
With Beekman (9.5 ppg, 5.3 assists/g, 40.5% FG, 35.1% 3FG), the reigning ACC Defensive Player of the Year, the sky is the limit for Virginia in 2023-2024.