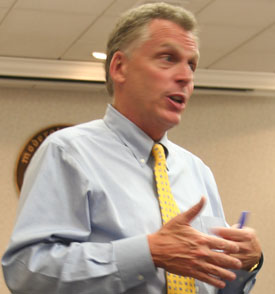 A new Quinnipiac University poll has the Virginia governor's race basically where it was two weeks ago.
Democrat Terry McAuliffe leads Republican Ken Cuccinelli by a 46 percent-to-39 percent margin. Libertarian Robert Sarvis is at 10 percent in the poll.
An Oct. 10 Quinnipiac poll had McAuliffe at 47 percent, Cuccinelli at 39 percent and Sarvis at 8 percent.
Unlike numerous other recent polls that have been finding that the government shutdown is having a major impact on the race, the most recent Quinnipiac poll finds only a small impact at best. Seventy-seven percent of voters say the shutdown hurt Virginia either "a great deal" or "somewhat," but voters are split on whose position better represents theirs on the shutdown, 45 percent favoring McAuliffe and 35 percent favoring Cuccinelli.
A bigger factor is that McAuliffe has shored up support among his party base, while Cuccinelli still has work to do in that area among Republican voters. McAuliffe leads 92-3 percent among Democrats, with 2 percent for Sarvis, while Cuccinelli leads 81-6 among Republicans, with 11 percent for Sarvis.  Independent voters are divided 39-39 percent, with 14 percent for Sarvis.
"Generally over the past decades, especially in southern states like Virginia, Republicans win when they have strong party allegiance among their base.  One reason McAuliffe is ahead is that he wins 92 percent of Democrats while Cuccinelli has only 81 percent of Republicans.  If Cuccinelli can't bring more Republicans home, he is likely to be toast," said Peter A. Brown, assistant director of the Quinnipiac University Polling Institute.