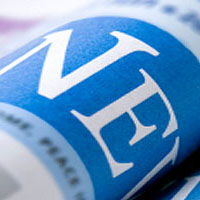 A popular locally produced calendar that features a unique collection of historic photos from around the Shenandoah Valley and amusing "holidays" for each day of the year is due out in early December.
Organizers from Shenandoah Valley Project Impact (SVPI) and the Central Shenandoah Planning District Commission (CSPDC) expect demand to be brisk, and for folks that have enjoyed the unique calendar, grabbing a copy from government centers, libraries and other locations in the cities of Staunton, Waynesboro, Harrisonburg, Lexington and the counties of Augusta, Rockingham, Rockbridge, Highland and Bath has become a tradition since 2003.
"There are historical facts and a photographic theme for each calendar, and people are always curious what it will be from year to year," said Rebecca Joyce, the senior planner with the Central Shenandoah Planning District Commission who came up with the concept and oversees production. She goes on to explain that the calendar is much more than an advertisement for Project Impact, the region's disaster preparedness education and mitigation program that is administered by the CSPDC. "The calendars also contain a lot of valuable information about disaster emergency preparedness pertinent to each season. So in addition to entertaining people with the calendar, we really want it to be a useful and practical preparation tool in the face of an emergency. The beauty is that it stays right at people's fingertips all year long," says Joyce.
The calendar is funded by a federal emergency management grant and is part of SVPI's ongoing efforts to create awareness about preparedness. Since its inception in September 2000, SVPI has conducted hundreds of trainings, demonstrations, surveys, forums and planning meetings, as well as developed important plans and printed materials to educate Valley residents on ways to protect their families, homes and properties, and businesses from the impact of severe weather, emergencies, and disasters. The SVPI was also recently selected to be a pilot community for the Resilient Neighbors Network, a national program that will forge stronger efforts within local communities to prepare and respond to emergencies.
The calendar is free and locations where it will be available can be determined by contacting Rebecca Joyce at the CSPDC at 540-885-5174 or [email protected].