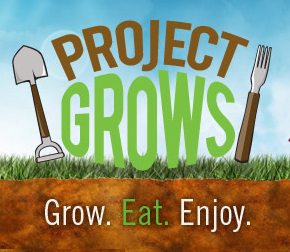 Project GROWS, a non-profit educational farm located in Augusta County, will host a Harvest of the Month program this spring in partnership with Staunton City Schools.
Beginning in March, Project GROWS staff and volunteers will bring fresh local vegetable samples into all six Staunton City School cafeterias each month this spring.
Harvest of the Month is an educational initiative that seeks to familiarize local youth with vegetables and encourage healthy food choices through hands-on experiences. Produce for the Harvest of the Month Farm to School Tastings will be locally sourced from Project GROWS' farm and other farms in the Staunton area. By the end of the year over 5,000 youth throughout Staunton, Waynesboro, and Augusta County will be directly reached through the Harvest of the Month tasting program.
"Harvest of the Month is a fun way to connect cafeteria to classroom, to expand familiarity with and showcase our local abundance, and to have students try new foods. We hope the long term benefit would be to increase our students' preferences for fruits and vegetable in school and at home, thus building healthier schools and community," said Amanda Warren, Director of School Nutrition at Staunton City Schools.
"The Harvest of the Month program directly connects children to the source of their food. Most of these children have even visited our farm and had a hand in growing these vegetables that will be distributed in their lunchroom or classroom," said Megan Townley, Food Access Coordinator at Project GROWS.
Project GROWS (PG) is an educational farm with a mission to improve the health of children and youth in Staunton, Waynesboro, and Augusta County, Virginia. PG is changing kids' health by connecting them to nutritious vegetables through hands-on, garden-based, nutrition education and access to fresh local produce. PG partners with 25 local organizations and schools each year to provide food-based education to 5,300 students: at our farm, in school cafeterias, and in the community. With the help of children and youth and over 445 volunteers each year, PG also cultivates more than 10,000 pounds of nutritious vegetables on a 10-acre learning farm, utilizing sustainable and ecological practices. Project GROWS is improving food access in the region by managing the North Augusta and Waynesboro Farmers Markets, and teaching cooking classes to youth and families throughout the community at no cost.
For more information about Staunton City School Nutrition, contact Amanda Warren at [email protected] and follow us on Facebook at SCSSchool Nutrition, or #GotfoodgameSCSSN
For more information about Project GROWS, contact [email protected] and follow along on Facebook and Instagram, or at #growhealthyouth.