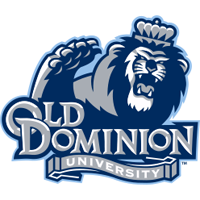 Old Dominion University football coach Bobby Wilder talks with the media on Monday. ODU (3-4, 1-3 Conference USA) have a bye week this week after losing 42-35 at UTEP on Saturday.
Hey, good afternoon everybody. Good afternoon to all of our twelfth monarchs out there in Monarch Nation coming off a 42-35 loss at UTEP. That puts our record at 3-4, 1-3 in Conference USA. The story of this game was falling behind 21-7 at halftime. We didn't have momentum in the first half and when you do that particularly when you are on the road in elite game that makes it very difficult to come back. Our inability on third and fourth down in the first half really hurt us offensively.
We were 1-for-5 on third down and 0-for-1 on fourth down and then we couldn't get stops on third down defensively. UTEP was 5-for-7 on third down in the first half. They ended up running 39 plays and we only ran 23 plays on offense, and when you do that it makes it very difficult to make up points when you fall behind like we did. I felt like the key drive in this game was when the score was 28-28. In the fourth quarter, UTEP had the ball on their own nine-yard line. We had them third down and 10 on that play and it appeared like we had the quarterback, we were about to get him sacked, he got out, took out on a 14-yard run for a first down and that led to a 16 play 91 yard drive that chewed up 10 minutes of the clock.
They took the lead 35-28 so the game went from 13 ½ minutes down to 3 ½ minutes after that drive when they took the lead 35-28 in what has plagued us, third down they converted on third and 10 twice on that drive. They also converted a third and three and a third and one. In that situation, they were 4-for-4 on third down in what proved out to be the key drive of the game.
The special teams punt block unit led to 14 points for us in this game. We had the initial block, a really good scheme that Coach Zohn Burden had, the players executed perfectly. We got Eriq Lewis freed up, he blocked the punt that led to a touchdown. In another pressure situation later in the game we forced a bad snap they didn't handle, we got the ball on the one yard line, so we were able to generate 14 points off of our punt block unit. Our kickoff team did not help us with the number one, the surprise onside we ran in the third quarter.
At that point, we had just scored to make it 21-14. We had a formation where we had four guys wide on each side, two guys in the middle with Ricky Segers and they didn't honor the width of the formation and Ricky kicked the ball to the left and we in essence had five guys against one guy on their return team and their one guy on the front wall was retreating for the return and unfortunately, Ricky miss hit the ball and kicked it out of bounds. That led to a touchdown in that situation and then the end of the game where it was 42-35, we had another onside kick situation with a little over a minute to go and unfortunately on that one, Jarrett Cervi hit the ball out of bounds.
Defensively, we knew going into this we had to control their run game. Nobody this season had stopped their run game but we knew we had to control it and we did not do that. They were averaging 216 yards a game coming into it; they ran the ball for 334 yards. In this game, their offensive line, tight end and full back, really controlled the line of scrimmage. We just did not do a good job maintaining our gaps. They were bigger than we were. They pushed us out of gaps and we just did not do a very good job with our gap integrity. Really the story for us on defense was the fact that they were 10-for-16 overall in the game on third down and that led to them controlling the ball. They had 78 plays in this game. They had 12 drives and they scored on six of them and we only two three and outs in this game and that's contributed to our inability right now to get off the field on third down.
Offensively, we got off to a very poor start. In this game, our first two drives were three and out. Our first drive was minus four yards with a couple of sacks. Our second drive was minus 13 yards and that really hurt us, not getting off to the good start on five of our 12 drives in this game. We were three plays or less five out of our 12 drives and that has not been the trademark of our offense. We are usually very successful, particularly when we get off to a good start on first down. We only ran 53 plays in this game, which is our lowest total of the year and third down we were very poor, we were 4-for-10 on third down and I contribute that to the first and second down. In this game, our third downs were third and 14 four times, we had a third and six, third and 10, and a couple of third and eights in this game, so when you put yourself in that many third and longs it makes it very difficult to be efficient. We did not do a good job, either side of the ball on first or second down. We put ourselves in a better position on third down.
Speaking to this week, we have a bye this week. What we are going to do is really focus on trying to get healed up. Our players need some time away right now to get their bodies healed up and spend the majority of the time in a training room or in the weight room this week. We have 17 players right now that are one the injury report. I think that has much to do with the fact that we have been playing football for 11-straight weeks, the four weeks of preseason and now seven straight games, so we have got to get some guys healed up. Offensively, I think we will get Troy Butler back for the Western Kentucky game; actually, he has assured me that he will be back for that game which is comforting because we certainly miss his presence in the offensive line. I do not think we will have Ely Anderson back for that game. I think Ely is another week or so away. I think as everybody knows, the plan is we are going to redshirt Blair Roberts this year, although Blair has been practicing, he looks really good in practice, but we are going to keep him out. The bye will be good for Taylor with his shoulder. His right shoulder has been bothering him since the Eastern Michigan game, to get him some time away from throwing and get healed up and also Josh Mann with his ankle. He has been playing on really, one healthy ankle and has just been gutting it out the last two games, the Marshall game and then this game.
Then we got a bunch of other various guys who have bumps and bruises, it will be good for them. Defensively, we have made the decision that we will redshirt Rob Thompson, who was scheduled to be our starting free safety. This year, Rob has been out with a shoulder injury since preseason and it just doesn't appear like he can get that healthy enough quick enough, so Rob played last year as a true freshman and it will actually be good to use this year as his redshirt and get himself healed. Scott Wiggins, Chris Smith and Jai Franklin all missed the UTEP game which hurt us in the defensive line with our gap and the rotation. I feel like we will have all three of those guys back for the Western Kentucky game. Andre Simmons also missed the UTEP game but I feel like Andre will be back and then we need to get D.J. Simon and Martez Simpson healed up.
Martez Simpson hyper-extended his elbow in this game. He left and did not play for the majority of the third and fourth quarter with that hyper-extended elbow, but hopefully he will get healed up enough for next week. Ricky Segers will get an MRI on his right knee that had been bothering him and see what happens with that. We will get that diagnosis this week. The biggest thing we need to do as a team is get healed up, need to get them back mentally and emotionally. They are all pretty down coming off this one right here and that happens, particularly when you lose a tough game, and when we have at this point lost three games in a row. Their psyche is affected a little bit as is the rest of the staff, so I have got to do a good job this week and then leading into next week getting everybody back and in the right frame of mind and getting them healed up. That will be the goal.
Q: Did D.J. Simon stay in the game or come out?
A: D.J. Simon stayed in. He is having a lot of trouble with his quad still. He took another good shot on it, but he toughed it out throughout the whole game and played very well. The best thing for him right now is that we have to keep him off of it, and make sure he doesn't take anymore shots to it. He has a really bad bruise. According to our trainers it is calcified around where the bruise is, which is a little bit scary. Getting him off of it and treatments is big for him. We practice in pads next Tuesday, so this time off will help him get healthier. I think that's going to be good for him
Q: They blocked you guys well on the run. Did you see anything on film that you didn't see in the game? Was there any secret to what they did?
A:  No, they pretty much stuck to what they have been doing schematically. They did a little more of the jet sweep motion, where they did the hand off to the receiver coming across or fake it to him. They would hand off to the running back, or the quarterback would fake both and keep it. They did a little more of that than they have done before, which created issues and that is why they kept doing it. When they keep running those plays it singles you up in some areas where you have to maintain your gap or tackle. Everything happened in front of the quarterback as opposed to behind him, and that gave us some issues. It primarily came down to what my biggest fear has been that we would not be able to hold up at the point of attack. I don't just mean the defensive line but also our linebackers; we didn't do a good enough job. There were times where we were very good particularly in the 3rd quarter. We come back from halftime and we were a different football team. We got it tied up at 28.  Then they had one distinguishing drive when we had 13 minutes to go. We had them third and 10, we had them sacked inside the 5-yard line, we lost it and they got out. The drive was the defining point of the game. When it goes from 28-28 with 13 minutes to go with 35-28 with three minutes to go that was really a defining moment for us. It came back to haunt us, we weren't covering our gaps, we weren't good at maintaining the line of scrimmage. They were bigger and stronger at the point of attack and that's how they went into it.
Q: How did Ricky Segers injure his knee? Or is it an old injury flaring back up?
A: It was an old injury that came back up. He's tried to get treatments on it and maintain it but it's his knee on his kicking leg. He hurt it back in week one against Hampton. He hurt it on a kickoff late in the game.
Q: Right before the 91-yard drive it was third and 10, there was a run play. Was that called or was it something Taylor saw that he thought would work?
A: We called that. There were three previous times in the game where we had a third and long. There was a big one when it was third and 14, when the game was tied 7-7. That was a draw play.  We did that two other times on third and 6 and third and eight on run plays. When you play man coverage and when you run the blitz packages, there was a small crease and nobody was there. When you get a lot of blitz it's a hit or miss.
Q: Is Ray Lawry your starting tailback now?
A: At this point, nothing has changed. We haven't had a chance to discuss it with the staff. He has earned the right to be in there significantly. I've always felt that we need at least two, maybe three good running backs. We are fortunate that they stay healthy. He has certainly earned more playing time from the progress he has made from the last games. He has made exceptional progress.
Q: Did you call the first on sidekick from the sideline and what was the thought process?
A: I called it from the sideline; we talked about this at halftime. We were down 21-7 and we needed something to happen. We talk to the entire kickoff team about it and what the plan would be lining up and so forth. We kept four guys off to the left, four off to the right, and two in the middle.  Ricky is more comfortable kicking it to the left and that is what we did.  We risked losing the possession of the ball and it has happened three times now. We're certainly not having success like we have had in the passed.  Ricky has not had success with it and at this point we are going to give Jarrett an opportunity. Ricky needs to rest especially with his knee injury.  We need those onside kicks especially towards the end of the games.