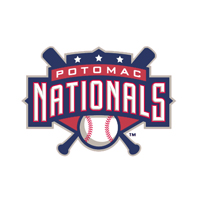 The Potomac Nationals (72-55, 34-24) were buried by the Frederick Keys (60-68, 28-33) 6-0 in their final 2014 regular season home game at Pfitzner Stadium on Monday evening in front of a crowd of 3,458.
Frederick evened the four-game series with the win and dealt Potomac their fifth shutout loss of the 2014 campaign.
Based on the results of the Carolina League proceedings tonight, the Potomac Nationals' magic number to clinch a second-half Northern Division title remains at five wins.
Keys starting pitcher, RHP Parker Bridwell (6-10) flirted with a perfect game which he took into the 7th inning and with one out allowed a single sprayed into right field off the stick of Nationals 2B Tony Renda to end the no-hitter bid in one fell swing.
Ironically, Renda also ruined Bridwell's attempted no-no on May 13th at Harry Grove Stadium with a sharp single back up the middle with one out in the 9th frame.
Bridwell finished off his brilliant outing with 8.1 scoreless innings in which he allowed just Renda's one-base knock and faced only one over the minimum. Bridwell fanned 13 batters and struck out the side twice en route to his sixth win.
Potomac hurler, RHP Brian Rauh (2-3), took his third loss after surrendering six runs, five earned, on nine base hits while walking two and striking out one. Rauh unleashed one wild pitch.
Frederick tagged Rauh for a quartet of runs in the 4th inning with three straight RBI singles from LF Brenden Webb, C Wynston Sawyer, and 2B Joel Hutter, who drove in two runs.
The Keys drove in two runs in the 6th courtesy of a bases loaded two-RBI single nailed into center field by SS Jerome Pena.
The silver lining for Potomac was the relief work of RHP Pedro Encarnacion.
Encarnacion went 3.1 scoreless stanzas and surrendered just two singles and no walks while fanning five.
Keys RHP Brady Wager loaded the bases in the 7th and got DH Estarlin Martinez to strike out swinging to finish off the final home game in 2014 for the red, white, and blue.
The Nationals travel to Wilmington, Delaware tomorrow to begin five games in four days against the Wilmington Blue Rocks (Kansas City Royals) which is the beginning of a season-ending, two-city bus trip which will culminate in Frederick, MD vs. the Frederick Keys (Baltimore Orioles).
The P-Nats will send RHP Dakota Bacus (5-6, 4.47) to the mound to do battle with Wilmington RHP Miguel Almonte (6-7, 4.80) in the series opener on Tuesday night at 6:35pm inside the confines of Frawley Stadium.