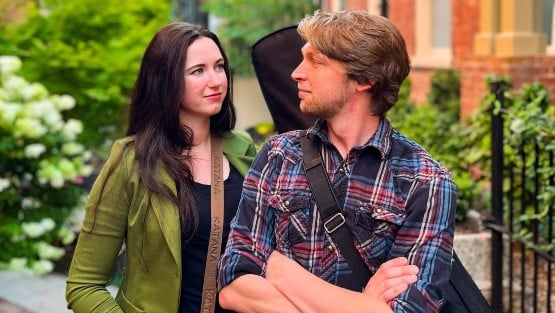 The story of boy meets girl, musical style, takes the ShenanArts stage in September and October.
"Once" is based on the Oscar-winning film of the same name and features songs by Glen Hansard and Markéta Irglová. Also based on the book by Enda Walsh, the show tells the story of two young musicians whose lives suddenly collide on a bustling street in Dublin. Together they navigate the complexities of love, dreams and the obstacles of life.
Drew Bastian portrays a heartbroken Irish busker about to give up on his hopes of becoming a successful musician when he abandons his guitar in the street and is stopped by a Czech immigrant, portrayed by Rebekah Bradley Ray. She plays piano and encourages him to continue writing and recording music.
"Ultimately, it's a love story," "Once" Director Matt Parrish said. "It's about a love between two people, a love of music, and the way that the two so often intertwine. I hope the show makes people think about those they've loved; even those they've loved and lost."
The cast includes 13 local actors who also provide much of the show's orchestration as live musicians. Instruments heard on stage include piano, guitar, accordion and melodica.
"It's really special to me that I get to play the piano as part of this musical," Ray said. "I have always loved playing but have never had the opportunity to play it while in character for a show. It's so much fun getting to hear my castmates play as well and to collaborate in this unique way."
"Once" will be performed September 29 and 30, October 1, 6, 7 and 8 at 300 Churchville Ave., Staunton. Friday and Saturday shows are at 7 p.m. and Sunday shows are at 3 p.m. Tickets are $19 per adult, $17 per senior and college student and $12 per child.