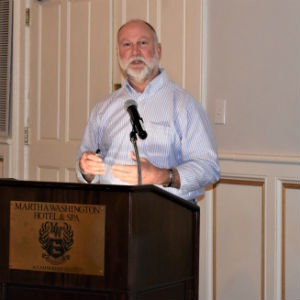 Possible Russian influence operations in the United States anti-fracking/natural gas pipeline protests was the topic of a presentation by retired Central Intelligence Agency officer Ken Stiles during Tuesday's fall meeting of the Virginia Oil and Gas Association.
Stiles, a retired CIA officer with 29 years of experience, currently lectures at Virginia Tech for the Hume Center for National Security & Technology and the Department of Geography. He has real-world experience and expertise in intelligence analysis, espionage activities, covert operations, the US war against terrorism, counter-proliferation, foreign relations, US policy maker support, as well as current events and global conflict spots. Stiles received the Career Commendation Medal from the CIA upon his retirement.
He stressed that any opinions he expressed Tuesday were his and not those of his current employer, nor the CIA as his previous employer.
"When the Mountain Valley Pipeline first announced its project to move natural gas through my region in Montgomery County in Southwest Virginia, I became involved in learning about the project and indirectly, the opposition against it," Stiles said.
"During my career in the CIA, I was not an energy analyst, not a Soviet/Russian expert, but I have seen activities recently in the anti-fracking and natural gas pipeline movement which concern me, given my knowledge of espionage, influence operations, Soviet/Russian tactics and the current thrust of Moscow's economic, diplomatic and military expansionism."
Stiles noted in researching the activity surrounding the MVP opposition, he found that while there were grassroots operations there in Montgomery County – Preserve Montgomery County  — with a local P.O box, anyone donating money to the cause is asked to send the check to the Charlotteville-based entity, Virginia Organizing.
He said he saw a summer 2017 interview on a news show with Kevin Mooney and then went on to read Mooney's article "Lawmakers Cite Evidence Russia 'Colludes' with US Green Groups to Block Fracking." He said he then began to research the issue from his own local perspective in Montgomery County.
Stiles said a 2014 US Senate report he found showed that Virginia Organizing receives large contributions from what he said is identified "as a possible Russian shell company" called Sea Change Foundation, based in California.
He noted SCF receives millions of dollars from a foreign corporation he described as a Bermuda-based shell company, which appears to have been established solely to provide non-attributable contributions to SCF. A 2017 US House letter, he said, found the foreign corporation receives its money from Russian-based oligarchs and companies involved in the energy market.
Stiles detailed the chain of companies and personalities allegedly involved and noted two officers in one company were also officers of one of the companies owned by a Russian Minister of Telecommunications and longtime friend of Vladimir Putin. He said the Russian minister's company was convicted in 2008 in the British Virgin Islands for allegedly operating a money laundering scheme to move illegally obtained money out of Russia and "cleaning" it for investment around the world.
As he finished his explanation, Stiles noted, "this is a long way of explaining how Moscow is supporting PMCVA, but by following the money, one can understand Putin's reach down to the local level in the US anti-fracking/anti natural gas pipeline efforts."
Stiles spoke about agents of influence, noting, "these persons do not steal secrets. They work to help a foreign government policy to the detriment of their homeland."
In an agents of influence operation, Stiles said there is a controlled agent who knowingly works directly with the foreign entity; a trusted contact, who shares the same goals; and a manipulated source, who is unaware of their own manipulation by a foreign entity and how it helps to achieve the goals that will help that foreign entity.
Stiles suggested that PMCVA is likely the manipulated source in this scenario, if not the trusted contact.
"What's interesting is that PMCVA does not collect contributions to its use directly," Stiles said. "One must go through Virginia Organizing. It's interesting that this 'grassroots' group can set up/run/pay for a website and get a post office box, pay some staff; but can't walk across the street and set up a bank account. Why?"
Stiles noted Moscow "plays the long game" when it comes to espionage.
"It is willing to invest in an operation for years, with no immediate results, hoping the return will come down the road," Stiles said. He pointed to a 1930s case when Soviet spies recruited five British Cambridge students. At the time, he said, they were just students, but he said Moscow knew Cambridge graduates usually went on to high posts in the British government.
"The Soviet Union was willing to wait," he said.
Stiles said he has no doubt Moscow "has been funneling money into US environmental groups for years, worried that fracking technology would one day become viable – and a threat to Russian economic prowess in the world energy market."
He quoted the former secretary of NATO, noting "Russia, as part of its sophisticated information and disinformation operations, engaged actively with "so-called nongovernmental organizations – environmental organizations — working against shale gas – to maintain (Europe's) dependence on imported Russian gas."
He reminded VOGA members that Russia's current economy, and thus its military supremacy and expansion is based on income from natural gas and oil. He noted that Hilary Clinton addressed those concerns in 2014 when she said, "Russia was using phony environmental groups to stand against any US energy development."
Geo-politically, Stiles suggested, U.S. energy is seen as a threat to Moscow.
"This covert support for anti-fracking and anti-pipeline groups is a form of espionage," Stiles said. "These groups are agents of Moscow. If we export natural gas, oil and coal to our allies, Russia can no longer blackmail the Western democracies to not work against Russian interests.
"To summarize, this convoluted network of foundations, non-profits, environmental groups and grassroots efforts like Preserve Montgomery County are – knowingly, or not – colluding with Russia to keep America down," Stiles said, adding they are working "to prevent American energy independence and supremacy; to thwart America's efforts to free Europe from Russian energy blackmail; to hinder America from providing an uninterrupted, affordable energy source to the American consumer and its allies; and to impede the creation of American jobs."