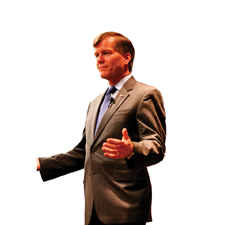 Former Virginia Gov. Bob McDonnell faced 20 years in prison on his convictions on 11 counts in his federal corruption case.
A probation office recommended around 10 years. The judge in the case was looking more at six to eight.
McDonnell's lawyers pushed for thousands of hours of community service in lieu of prison time.
The final verdict: two years of hard time, plus two years of supervised release, and a nominal fine.
How does that stack up to what could have been, should have been?
Probably about right.
Unfortunately for McDonnell, he gets to be the example. Virginia isn't Louisiana, it's not Chicago, has a reputation for having, by and large, clean politics played by clean politicians. When the ex-governor and his wife, Maureen, got in bed with Jonnie Williams, the former CEO of Star Scientific, who was intent on getting his company's products in front of state officials, a line was crossed.
"The jonnie williams of the world are a dime a dozen. Corrupt governors are not. But when we find one, the official must be brought to justice," said Michael Dry, a lead prosecutor in the case.
That doesn't make it any harder to swallow that McDonnell doesn't seem to have done anything blatantly illegal to earn his time in prison. Williams loaned money to the McDonnells and lavished them with gifts, but all he got in return was help getting literally a couple of meetings set up with state officials, meetings that led nowhere.
A corruption case usually hangs on a quid pro quo, something for something, and it's not easy right away to see the something that Williams got in return for the loans and gifts, nor is it easy to see that McDonnell used the office of governor to do anything more than get Williams on a schedule.
That said, the letter of the law says the McDonnells took money from a benefactor and made an effort to give some assistance, a jury heard the evidence and decided to convict, and the judge had to hand a sentence down based on the facts of the case, the verdict and the guidelines.
Twenty years, ten years, six to eight years, all out of line based on the facts of the case. Community service is out of line mainly from a PR perspective.
Two years fits.
Unfortunately.
Not all will be happy. Partisans on one side will say that McDonnell is the victim of a political witch hunt; the other side will howl that the judge didn't lock him up and throw away the keys.
Two years fits.
– Column by Chris Graham