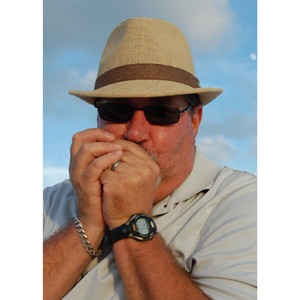 January's Mojo Saturday Night will have a deep blue hue to it! Featuring local favorites Lisa Miller, Jack Roy and Kevin Chisnell, the Saturday, Jan. 19th show at The Gateway will look deep into blues traditions, history and most of all: music.
Jack Roy, or Juke Joint Jackson, is the founding member of The Central Virginia Blues Society. He'll kick off January's Mojo with a preview of his performance in the 2013 International Blues Challenge in Memphis. Juke Joint Jackson won the competition at The Sedalia Blues Festival in July to qualify for the 29th annual International Blues Challenge, which begins on January 29th at various venues on Beale Street.
The International Blues Challenge is one of the nation's biggest and arguably the most respected showcase for Blues musicians. The IBC is a "Battle of the Bands" type of contest in which competitors take the stage and play a short set for a panel of judges. The performances are judged based on an established set of criteria.
The Challenge is a grueling performance schedule, consisting of 3 judged rounds in 4 days. The winners, in both solo/duo and the band categories, advance to the next round, with the champs crowned at the Finals on February 2nd held in the Orpheum Theater.
Lisa Miller and Mojo Saturday Night's host Kevin Chisnell will join Jack on stage to finish the show in blusical style as The Juke Joint Junkies, or "J3", as they are collectively known.
Lisa's vocal flair on classic blues tunes will put you in touch with the significance that Ma Rainey, Dinah Washington or Jimmy Reed meant these songs to have. Kevin's harmonica style will remind your musical mind of Little Walter, James Cotton or Paul Butterfield. Jack's hill country style of guitar can take you right down to the Mississippi Delta feel the energy of R. L. Burnside and Junior Kimbrough.
"J3" will also play original songs from Lisa's debut CD "Out of the Blues" and new material to be on an upcoming recording. As Mojo Saturday Night's motto says "The Blues, the Whole Blues, nothin but The Blues!".
Come out, cheer Jack on to Memphis and Get Your Mojo Workin'!
Mojo Saturday Night is the region's premier blues revue, set in a "listening room" atmosphere. Tickets are $10 presale and can be found at www.wtagateway.com  Tickets will be $12 at the box office the day of the show. For more information, go to www.wtagateway.com or "Like" Mojo Saturday Night on Facebook or call the Wayne Theatre Alliance at 540-943-9999. Doors open at 7:30pm and the show starts at 8:00pm.