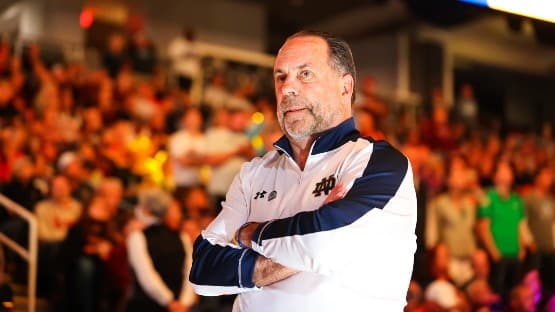 Wikipedia already has Mike Brey as the former basketball coach at Notre Dame. And since he's now the former coach at Notre Dame, he let his feelings be known about the controversial call in the final minute of the 67-64 loss to Virginia Tech in the first round of the ACC Tournament.
"I'll be very honest now that I'm not in the league anymore, I think that last play, if you have an A officiating crew, and that was not an A crew, you say, basketball play, and we shoot the free throws, and we play basketball," Brey said of the call that gave Tech guard Sean Pedulla a foul for impeding the progress of Irish forward Matt Zona, then assessed a deadball technical on Zona essentially for falling on Pedulla after being fouled.
It was the fifth foul for Zona, and though Trey Wertz made both ends of the one-and-one with 42 seconds left to put Notre Dame up one, 64-63, Pedulla was able to make 1-of-2 on the technical at the other end to tie it.
Justyn Mutts, on the ensuing possession, threw down a dunk 12 seconds later to give the Hokies the lead for good.
Pedulla went 1-of-2 at the line with 10 seconds left to make it a three-point game, and Nate Laszewski missed an open look at a three at the buzzer as Notre Dame's season came to an end.
Everything in those last 42 seconds is different if not for that odd call by the officiating crew of
Lee Cassell, A.J. Desa and Jeff Pon, who took several minutes to watch a variety of replays and then discuss amongst themselves what to do about what they saw.
"I think we got a little over analyzation on that part of it. Look, Virginia Tech made plays, but I don't think that was handled right," Brey said. "Now, we had some turnovers and made mistakes, too, but I think you go, basketball play in a great game, and you shoot the free throws and let the game play out. That's a big-time crew."
Brey announced earlier this season that this season would be his last at Notre Dame, where his teams compiled a 483-280 record in his 23 seasons, winning the ACC Tournament in 2015, when the Irish finished with a 32-6 record.
That was the first of back-to-back Elite Eight appearances for Notre Dame, but the program has been in just two NCAA Tournaments in the seven seasons since, and the 2022-2023 season ended with a thud, an 11-21 finish.
"Even though this year didn't go well, I'm proud of how we've run the program, and I think we are going to get a heck of a coach, and I'm going to help our administration recruit the next guy," Brey said. "To walk around for 23 years and a guy goes, hey, that's the Notre Dame coach, man, that's awesome. Can you make sure they say, hey, that's the former Notre Dame coach? That would be all right if they say that."
The game over, the season over, his Notre Dame career over, Brey wasn't in any hurry to get out of Greensboro.
A reporter asked him his plans for Tuesday night.
"Tonight? I'm going to smoke a cigar," Brey said. "I'm going to go back and smoke a cigar, and tonight I'm going to hang out a little bit and visit with my staff. You need time to decompress. When you're in the season, you're just grinding every day. We'll take a couple deep breaths, and tonight we're just going to lay low.
"My comments about Irish whiskey last year after the Rutgers game, I'm not really a big whiskey guy, but man, everybody is sending me bottles. I have got a stash, even in my room here. May hit some of that tonight," Brey said.