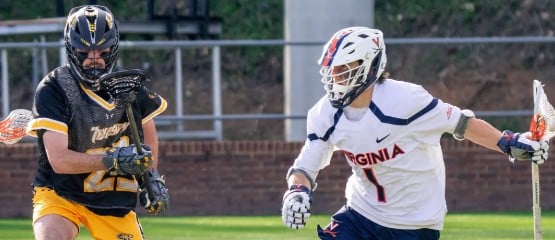 Connor Shellenberger tied his career high of 10 points to lead No. 1 Virginia to a 19-12 victory over Towson at Klöckner Stadium Saturday night.
The Cavaliers (6-0) – who have the nation's No. 1 scoring offense – scored at least 17 goals for the sixth consecutive game.
Xander Dickson recorded six points with four goals and two assists.
Virginia goalie Matthew Nunes finished with nine saves, including five in the third period.
Shellenberger and four goals and six assists for UVA, which trailed five seconds in when Towson's Matt Constantinides won the opening faceoff and dished it to Joaquin Villagomez, who buried a shot from the wing.
The Cavaliers led 9-6 at the half, but Towson (1-5) hung close, getting the margin to one early in the third quarter before Virginia finally took control, scoring the next five goals to go into the fourth up 14-8.
"Give credit to Sean Nadelen and his program. They came to Charlottesville not intimidated, and they threw some haymakers. They gave us all we [could] handle today," Virginia coach Lars Tiffany said. "How about that hot goalie? Having Long, he was an absolute wall in the first quarter, and then again in the third quarter. He made us really, really work and earn our goals today. Give them a lot of credit."
The Cavaliers return to Klöckner Stadium on Saturday to host Maryland (4-2) in a rematch of the 2021 national championship game.
Opening faceoff is set for 2 p.m. on ACC Network.