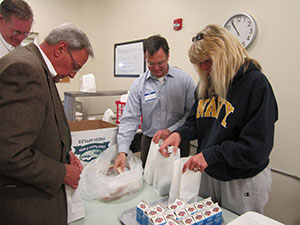 Staunton Mayor Lacy King and three city councilmen, James Harrington, Bruce Elder and Erik D. Curren, delivered meals with volunteers from Staunton Senior Center (SSC) March 20. Valley Program for Aging Services (VPAS) hosts the annual Mayors for Meals project that offers local officials the opportunity to serve and converse with meal recipients directly.
The men rode to homes throughout Staunton along with seasoned Meals on Wheels volunteers Tim and Brenda Bruce, Steve Moore, Tom and Shirley Baird, and Alice Patter.
"I was very impressed with the devotion of the volunteers, and the amount of support (SSC) receives," said Curren, who participated for the first time this week. "It seemed like (Meals on Wheels) filled a real need."
SSC delivers over 75 meals each weekday to homebound individuals, age 60-plus, who are at risk for poor nutrition. The meals follow USDA guidelines and recipients give feedback on taste, temperature and satisfaction throughout the year. There is no fee for meals, but individuals are encouraged to make donations.
For more information about volunteering, call Jan Dore-Dennis at 540-886-4634. For more information about receiving meals, call David Taylor, 540-885-4568.
More online at www.StauntonSeniorCenter.org.