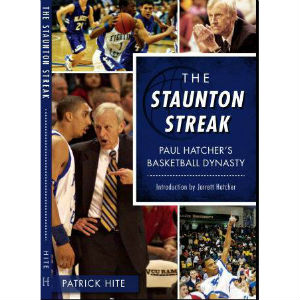 Paul Hatcher won 897 games and four state championships in his career as the coach of the R.E. Lee High School's boys basketball team. He was named Virginia coach of the year 11 times and has been inducted into five halls of fame.
Yet no accomplishment may be more impressive than what Hatcher's teams did from 2003-2006. Lee High won an amazing 85 games in a row and back-to-back state championships over those three seasons. The streak is still a Virginia High School League record.
"Paul is certainly a legend in the history of Virginia High School League basketball circles," said Troy Wells, a longtime coach at both Martinsville and Hidden Valley. "When you bring up basketball, he's one of the first names that you talk about."
Paul is a native of Bassett, where he was a star for the Bassett High School Bengals before playing at Bridgewater College. During his career at Lee High, Paul Hatcher coached Mark Newlen and Jason Rogers (University of Virginia), Kevin Madden (University of North Carolina) and Tyler Crawford (Georgetown University). He also coached against former Harrisonburg High School and UVA star Ralph Sampson in some memorable games.
Author Patrick Hite has chronicled not only the state-record winning streak, but also Paul Hatcher's remarkable 43-year coaching career in his latest book, "The Staunton Streak: Paul Hatcher's Basketball Dynasty."
The introduction was written by Jarrett Hatcher, Paul's son and former assistant coach was on the Lee High bench for many of his dad's wins, including all 85 during the streak. Jarrett is now the head coach at Lee High, following in his dad's footsteps.
To mark the release of the book, there will be a Lee High alumni basketball game Oct. 22, 2016, at 2 p.m. featuring many players from the teams that won 85 games in a row. Following the game the book will be available for sale and Paul Hatcher will be signing copies. Before the game there will also be a memorabilia sale beginning at 1 p.m.
Details
ISBN: 9781467135665
Publisher: The History Press
Website: arcadiapublishing.com/The-History-Press
Release Date: Oct. 22