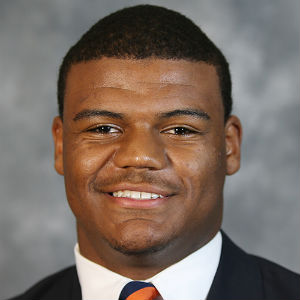 Former Virginia All-American football player Micah Kiser is one of 29 semifinalist for the prestigious AAU James E. Sullivan Award, an award that has recognized the nation's top amateur athlete since 1888.
Kiser (Baltimore, Md.), the 2017 Campbell Trophy winner, recently took part in the NFL Combine and was invited to play in the 2018 Senior Bowl. A three-time first-team All-ACC honoree and a first-team All-American (Sporting News) in 2017, Kiser's 145 tackles were the fourth most in the nation and are No. 2 all-time on UVA's single-season ledger. Over the past two seasons Kiser has been named to 11 different All-America teams, including earning second-team CoSIDA Academic All-America honors in 2016, becoming the first Cavalier to do so in nearly 20 years. Kiser led the Atlantic Coast Conference in tackles in 2015, 2016 and 2017. He is just the second player in league history to lead the conference in tackles for three straight seasons.
Fans can vote for the semifinalists starting on Wednesday, March 14 and voting stays open through March 20. Family, friends and fans can vote once per day. Fans can vote using the on-line portal. Tweets/retweets using #Kiser4Sullivan will also count toward the final vote.
The semifinalists for the 88th AAU Sullivan Award are: Annika Albrecht, Rhamat Alhassan, Marvin Bagley III, Saquon Barkley, Joel Berry II, Christian Coleman, Caeleb Dressel, Erin Finn, Sara Hughes, Kelly Hunter, Megan Johnson, Micah Kiser, Bryce Love, Helen Maroulis, Baker Mayfield, Chris Mazdzer, Elana Meyers Taylor, Annie Peavy, Kathryn Plummer, Maia & Alex Shibutani, John Shuster, Carli Snyder, Kyle Snyder, Maggie Steffens, Gabby Williams, A'ja Wilson, Trae Young and Katie Zafares.
The AAU Sullivan Award has been presented annually since 1930 to the most outstanding amateur athlete in the United States. Representatives from the AAU created the AAU Sullivan Award with the intent to recognize amateur contributions and achievements of non-professional athletes across the country. World renowned golfer Bobby Jones, co-founder of The Masters, received the inaugural award in 1930 and swimmer Anne Curtis became the first female to accept the award in 1944. Other notable athletes to win the award include famed Olympians Carl Lewis (1981), Jackie Joyner-Kersee (1986), Michael Phelps (2003) and Shawn Johnson (2008), former UCLA basketball star Bill Walton (1973) and University of Tennessee quarterback Peyton Manning (1997).