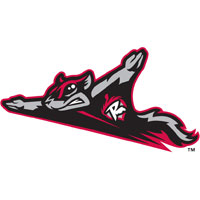 The Richmond Flying Squirrels announced that the annual Independence Day celebration contest on Monday, July 4th is officially sold out.
Tickets for the remainder of the homestand are still available, including additional fireworks shows on Thursday, July 7th and Saturday, July 9th. The Human Cannonball Dave "The Bullet" Smith also returns to The Diamond on Thursday, July 7th to perform his nationally acclaimed act. Details and promotions for the entire homestand are listed below.
July 4th – July 10th Homestand
Monday, July 4th – SOLD OUT
July 4th at The Diamond is a Richmond tradition and this year we celebrate with the biggest and best fireworks show around. Enjoy fireworks simultaneously from center field and directly behind the right field wall for a dueling extravaganza. Please note: this is NOT a Bark in the Park Monday. Gates open at 4:30 PM for a 6:05 PM start. Presented by United Health Care, Chick-fil-A, Fas Mart, Food Lion and VA Putative Father Registry.
Tuesday, July 5th
Since Bark In The Park was missed on Monday, we roll it over into Tuesday! The first 300 dogs will go home with a Flying Squirrels dog collar presented by Coca-Cola. It's also a Silver Squirrels night, the official club for Flying Squirrels fans 60 and older. Buds and Burgers specials available at the midway cart. Gates open at 6:00 PM for a 7:05 PM start. TICKETS
Wednesday, July 6th
Unwind with Wine Up Wednesday! Wine happy hour specials from 6:00 PM to 8:00 PM. It's also ladies night. Stop by the South River Dentistry table for a chance to win great giveaways! Gates open at 6:00 PM for a 7:05 PM start. TICKETS
Thursday, July 7th
The Human Cannonball Dave "The Bullet" Smith returns to defy all odds and shoot himself out of a cannon. Dave got rained out earlier this year when attempting the feat. This is an act you don't want to miss! Following the performance, enjoy Super Blast Fireworks, presented by VCU Health and Your Local Ford Dealers. Gates open at 6:00 PM for a 7:05 PM start. TICKETS
Friday, July 8th
It's Friday so you know what that means…. Free Shirt Friday and Happy Hour! The first 1,000 fans 15 and older will go home with a free Joe Panik shirt. Panik is a former Flying Squirrels second baseman and World Series Champion with the Giants. Happy Hour specials from 5:30 PM to 7:30 PM presented by Applebee's. Kids run the bases following the game. Gates open at 5:30 PM for a 7:05 PM start. TICKETS
Saturday, July 9th
Vamos Ardilla Voladoras! Join us for Hispanic Heritage night and Super Blast Saturday Fireworks. Kids Run The Bases following the game! Food specials will also be available. Gates open at 5:00 PM for a 6:05 PM start. TICKETS
Sunday, July 10th
Join us for Brunch and Baseball. Enjoy brunch items such as chicken and waffle sliders, french toast sticks, breakfast bowls and mimosas! Ask about the All-You-Can-Eat option. It's also a Kids Club giveaway. The first 1,500 fans 14 and younger will go home with a Nutzy or Nutasha superhero cape presented by the Richmond Times-Dispatch. Kids can play catch on the field from 11:15 AM to 11:35 AM and run the bases following the game. Gates open at 11:00 AM for a 12:05 PM start. TICKETS