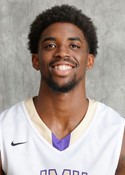 JMU basketball coach Matt Brady announced Wednesday that he has dismissed guard Andre Nation (Plant City, Fla./Faith Baptist Christian School) from the program, effective immediately.
Nation was averaging 9.0 points, 2.5 rebounds and 1.8 assists per game for the Dukes in 2014-2015. The 6'5" junior missed the first five games of the season to a suspension for an undisclosed violation of team policy, and also missed 15 games in 2013-2014 to another suspension.
Upon his return last season, Nation averaged a team-leading 15.4 points per game, and despite the missed time, he was named to the All-CAA third team, after being named to the CAA All-Rookie Team in 2012-2013, when he averaged 9.3 points and 3.1 rebounds a game for a JMU squad that won the CAA and advanced to the second round of the 2013 NCAA Tournament.
"We appreciate Andre's efforts with our program over the past three years," Brady said. "Working with Andre this year, it has become apparent that he no longer fits within our program and the vision we have for the future. I care about Andre and his well-being and wish him all the best in the future."
"I'm looking forward to the remainder of the season with my team," Brady continued.  "As such, I will not comment further on Andre."
Nation will remain on scholarship through the spring semester.