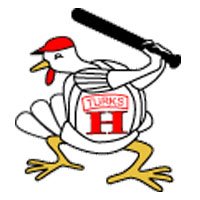 Catcher Joey Roach hit an RBI single in the bottom of the eighth to complete a 5-4 Harrisonburg comeback win over the New Market Rebels on Wednesday night.
Brandon Gold had reached base on a fielder's choice and advanced to second on a wild pitch.  After Christopher Barr walked, Roach smacked a single to bring home Gold and put the Turks up 5-4.
The Rebels had a 4-2 lead in the sixth inning, but a Luke Czajkowski single brought home Eric Kalbfleisch and Gold to tie the game at 4-4.
Three of New Market's runs came off the bat of second baseman Jake Kimble who had an RBI single in the first inning and a 2-RBI double in the fifth inning.  Josh Mason had the only other RBI for the Rebels, a single in the first inning to open the scoring.
Logan Onda earned his third win of the season for Harrisonburg after he threw two innings of scoreless and hit-less relief.  Starter Wayne Wages took the loss for New Market.  He threw seven and two thirds innings, allowed five runs on seven hits and five walks, and struck out four batters.
Harrisonburg improves to 13-7 with the win and New Market falls to 7-12 with the loss.  The Turks are on the road for games against Strasburg, Staunton and Waynesboro before returning to Veterans Memorial Park on Sunday to host the Woodstock River Bandits at 7:30 p.m.