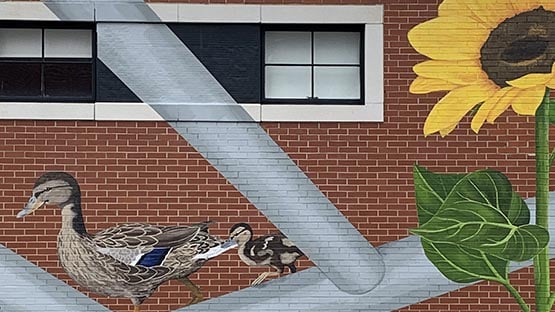 The new Public Art Forward mural on the MODdisplays Building in Harrisonburg will be dedicated during a ceremony on Wednesday, Aug. 30, at 4 p.m.
The event will take place in the parking lot between MODdisplays and Urban Exchange at 273 E. Market St. in Harrisonburg.
Speakers include Harrisonburg City Mayor Deanna Reed and artist Laura Thompson.
Following the dedication, MODdisplays will host a reception for attendees.
Thompson's recently completed mural represents the first Public Art Forward grant awarded by Arts Council of the Valley. The new grant, made possible by the generosity of the Forward family, provides up to $15,000 once each year through 2025 to create a new work of public art in downtown Harrisonburg.
"We are so appreciative of the Forward family's commitment to expanding opportunities for people to experience public art in our community," ACV Executive Director Jenny Burden said. "This grant highlights the interest in and growth of public art in downtown Harrisonburg."
Signage near the mural features information about the artist and artwork, and a QR code links the items portrayed (ranging from a lion and ducks to a sunflower and diver) to stories of their local connections.
Thompson is a local painter, mixed media artist and former public school art teacher who is active in the local arts scene. She has painted several interior murals, working with students in schools where she taught.
For her first exterior mural project, Thompson turned to Andre Shank, an experienced mural artist living in Richmond, who served as a mentor and consultant to help ensure a successful design and installation process.
Arts Council of the Valley is located at 311 S. Main St. in Downtown Harrisonburg,
To learn more, visit valleyarts.org.