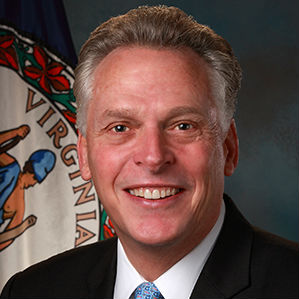 Governor Terry McAuliffe announced yet another gateway connecting Chinese travelers to Virginia with the creation of a brand new landing page on the state's tourism website, Virginia.org.
The landing page, virginia.org/china, will provide Chinese travelers with unprecedented access to curated itineraries and resources, including information about the region's rich history, diverse shopping opportunities, iconic cultural experiences, incredible outdoor activities, and award-winning culinary offerings. Additionally, Virginia Tourism Corporation (VTC) has produced a 15-page brochure which provides the Chinese traveler with a suggested six-day itinerary. All resources are provided in Chinese.
The new landing page is the 16th of its kind. VTC's international landing pages currently welcomes visitors from countries like France, Italy, Argentina, Mexico, and Japan, each in the respective country's official language.
With china as one of Virginia's top emerging markets, Governor McAuliffe has recognized the importance of launching new initiatives to build Virginia's economic bridge to china. The creation of the landing page follows a successful collaboration earlier this year with Air China, and the establishment of new nonstop flights between Beijing and Dulles International Airport in Virginia. The new air route is expected to bring in an additional 16,000 tourists and business travelers to the capital region annually, which will result in 24,000 additional hotel room nights and $14 million in local spending annually.
As part of the memorandum of understanding with Air China, today Governor McAuliffe met with eight Chinese tour operators visiting Virginia as part of a familiarization tour in Virginia Beach. The purpose of this tour is to create awareness of the exceptional travel experiences and tourism products that are available around the Commonwealth for Chinese travelers.
"The Commonwealth of Virginia has a longstanding and productive relationship with China, and I am passionately committed to expanding that relationship," said Governor McAuliffe.  "There is great opportunity to continue building strong partnerships and a powerful bridge to connect our two great countries. These new resources will help unite businesses, friends, families, and universities, and will help us to continually improve our communication to Chinese travelers."
"International tourism is one of our strongest markets, and one that has incredible growth opportunity," said Secretary of Commerce and Trade Maurice Jones. "The estimated economic impact of Air China alone is evidence of just how important these partnerships are to the new Virginia economy. It is our hope that these new resources will continue to create opportunities for Chinese travelers to experience all Virginia has to offer for many years to come."
Tourism is an instant revenue generator in Virginia. In 2013, travelers spent $21.5 billion, supporting 213,000 jobs and provided more than $1.42 billion in state and local taxes.
To learn more about Virginia's international marketing efforts, please visit: http://www.virginia.org/international/.