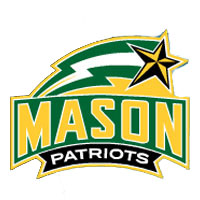 George Mason fed off a raucous Homecoming Weekend crowd to grind out a 72-65 victory over George Washington on Saturday afternoon inside EagleBank Arena.
Mason (11-14, 5-7) led by one (26-25) at the break, then used a 16-3 run midway through the second half to provide a cushion the Patriots ultimately would ride to victory.
In the second of two Revolutionary Rivalry games this season, the Green & Gold limited the Colonials to just 65 points, the lowest by a Patriot opponent since Dec. 9. Mason foes are averaging just 65.5 points over the past two games.
The victory marks Mason's first over George Washington since 2010.
"This was a great effort by our guys," head coach Dave Paulsen said. "I told them in the locker room, I think it was the hardest we've fought for the longest in a game. We fought on every single possession. It wasn't always perfect and it wasn't always pretty, but every guy was over the top in their energy and effort. We had a lot of great contributions across the board."
Mason held George Washington (10-15, 3-9) to 43.1 percent for the game, and 33.3 percent from 3-point range, while holding a +9 (44-35) edge on the glass. The Patriots turned 13 offensive rebounds into a 17-10 edge in second chance points for the game.
Junior Otis Livingston II rebounded from a tough first game of the season against George Washington with a strong effort Saturday. The Linden, N.J., product tallied 14 points and tied a career best with nine assists in 37 minutes on the floor. He's now tied with Steve Smith (1986-90) for ninth on the all-time Mason assists list with 329 career dimes.
Fellow junior Jaire Grayer played arguably his best game since battling through a foot injury, tallying his sixth double-double of the season with 12 points (2-3 3pt FG) and 12 rebounds in 31 minutes.
Sophomore Justin Kier chipped in 13 points and hit another pair of 3-pointers, while redshirt-freshman AJ Wilson provided 11 points (4-8 FG) off the bench for the Green & Gold. In all, seven Mason student-athletes posted at least seven points in a great all-around effort for the Patriots.
Mason led 11-7 at the 14:17 mark of the first half and extended the edge to 22-15 on a lay-in from Grayer with 6:16 to go in the stanza. That bucket capped a stretch in which Mason held GW to 1-of-9 shooting and four turnovers in a five-minute sequence. Mason led 26-19, but the Colonials used a 6-0 run to close the half and trail by just one (26-25) at the break.
GW tied it up at 33 just five minutes into the second half, but Mason responded with an 8-2 run to go up 41-35 on a Javon Greene 3-pointer at the 12:40 mark of the stanza. A Yuta Watanabe 3-pointer capped a 6-0 run to tie it up again at 41-41 with 11:33 left.
At that point, Mason rallied back with a 7-0 spurt to go up 48-41 on a lay-in from Greg Calixte. Then, the Patriots pushed it to 14 (57-43) with 5:31 to go. The run included 3-pointers from Grayer and Kier. All in all, the Mason run clocked in at 16-3 over a six minute spurt.
Mason led 61-47 with 3:16 to play, but at that point, GW used a 10-1 run to get back in the game, cutting the lead to five (62-57) with 1:57 remaining. Mason had a series of 1-for-2 trips to the free throw line during the run that allowed the Colonials to get as close as four (66-62) with 43 seconds left, but Livingston II went 4-4 and Ian Boyd went 2-2 over the final seconds to secure the win for the Green & Gold.
Mason remains at home as Cupid's Arrow "flies" into EagleBank Arena for a Valentine's Day matchup with Dayton on Feb. 14 at 7 p.m. The game will be broadcast regionally on MASN.