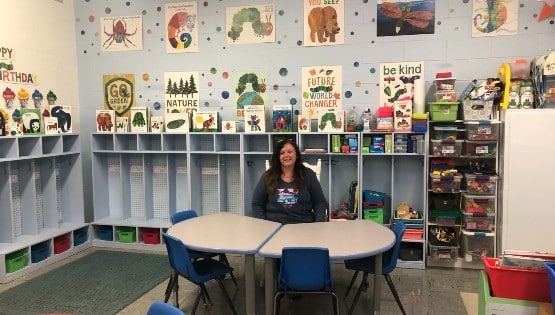 Whitney Critzer of Critzer Farm opened Afton Christian School 22 years ago.
His mission was a college preparatory school that readied students with a foundation in Christianity.
In 2020, the school moved to Maple Avenue in Waynesboro and changed its name to Appalachian Christian School.
"Further reach, we really wanted to reach more families," said Kimberly Gale, who is in her first year as Director of Advancement after teaching at the school for nine years.
In the former St. John's Catholic Church, the school enrolls approximately 170 students from as far west as Staunton and as far east as White Hall. A shuttle van service is available to and from Afton and Crozet.
According to Gale, marketing advice said the school's name should not include the name of a city.
ACS Head of School Lori Knight said the mission is to present a great education inspired by the great commandments (to love God and love others), and to fulfill the great commission, which is create disciples of Christ.
"Students having a personal relationship with Jesus," Knight, who has been with the school since 2002, said. Kindergarten through sixth grades are in ACS's Lower School, while grades 7 through 12 are in Upper School, or high school.
Gale said that the COVID-19 global pandemic actually created "tremendous growth opportunities" for the school.
In fall 2020, ACS did not have online classes. Students attended in person and the school had only a few cases of COVID-19.
"That's when we did see a lot of growth, because parents wanted students in school," said Lower School Principal Annie Morris.
Girls volleyball, boys soccer and coed cross country running are offered in the fall for students. Winter sports are girls basketball and boys basketball. Spring offers coed golf and coed track & field. All ACS sports are played at Fishburne Military School facilities.
A robust parent volunteer program enables the school's success, Gale said.
"We have a great staff of faculty and administrative support who are very strong believers, united in our mission and love children," Knight said.
Morris said teaching at ACS goes to a deeper level and minister to children's hearts.
"I love how we can teach a variety of subjects while also incorporating God's word," Morris said.
Tracey Morris has welcomed students to kindergarten for 19 years. Her two daughters have also attended the school, one in Afton and one is attending in Waynesboro.
"My theory is that these kindergarteners are going to keep me young and mobile and moving," Tracey Morris said. She said they are "little sponges" waiting to soak up knowledge.
She watches them grow from kindergarten into high school students.
"They're an investment," Tracey Morris said.
Students are taught foundational Phonics learning from day one.
Gale said students learn cursive writing in first grade, how to read an analog clock and traditional math.
Morris will have 12 students this school year.
"It's a great atmosphere. The atmosphere here is positive and uplifting," Tracey Morris said.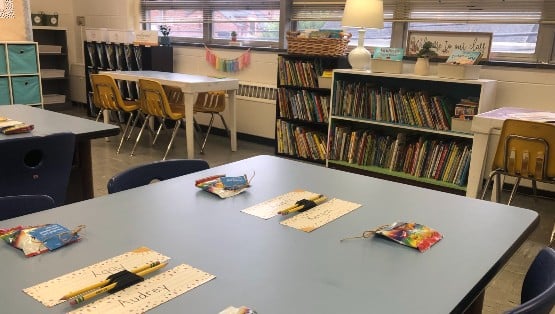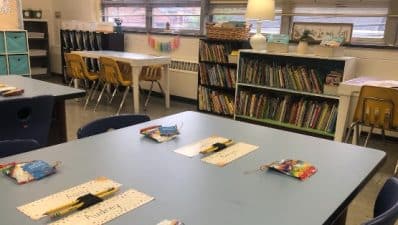 Haleigh Goodman attended ACS as a student for 10 years and returned after graduating from Liberty University in 2016 to teach. This year she will have 18 first-grade students. Her husband, Mike Goodman, is the school's Athletic Director and physical education teacher.
She described the school as "like a family-style atmosphere" when she was a student. "I felt like the teachers were much more available to us." Smaller class sizes was also beneficial as a student.
Goodman said she returned as a teacher because she felt she would have the support she needed and feel comfortable. "I felt like my needs would be heard."
"The biblical integration," Goodman said of why she returned as a teacher. "I feel like they find teachers who are here because they really care."
Last year, Goodman taught kindergarten.
"And we're kind of building on what they learned last year rather than starting over," she said of this school year.
Thirteen fifth graders were greeted by Nellie Barker, a UVA graduate who majored in Spanish and has taught at ACS for four years. Her husband, Morgan Barker, was among the school's first students. He attended first through sixth grades in Afton, and his parents were involved in construction of the school's first building.
"It's been really good," Barker said of teaching at ACS. "What I have learned — we have a lot of support here."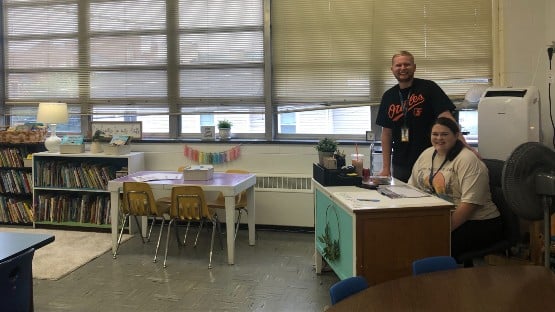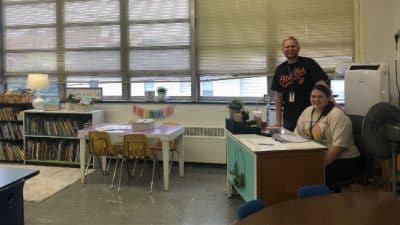 Administration at ACS support teachers with academics, discipline and classroom management, but also allow freedom.
"I really appreciate the freedom I have here as a teacher [to do what's best for students]," Barker said. She can try different teaching styles if she wants.
Appalachian Christian School students began classes today.
"It's a whole-child teaching philosophy," Gale said.