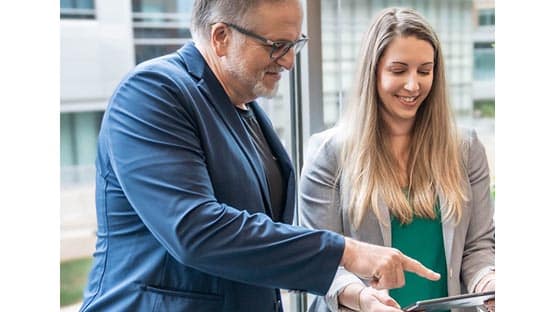 BEAM Diagnostics Inc., a behavioral health company that sprung from research from Virginia Tech's Fralin Biomedical Research Institute at VTC, has been awarded a $1.84 million grant from the National Institutes of Health to commercialize its technology to improve assessment of opioid use disorder in outpatient medical clinics, according to the company.
Beacon-OUD is a digital screening tool that quickly and accurately determines a patient's risk of opioid use disorder without asking stigmatizing questions.
In a clinical study, providers viewed Beacon-OUD as a means to encourage patients to be a part of their treatment, provide education and build provider-patient rapport.
Mental health assessments are often underutilized because of time restraints, tool usability and the fear of stigmatization, said the company.
"Behavioral health screenings should be as easy and routine as taking your blood pressure," said Sarah Snider, BEAM Diagnostics co-founder and chief executive officer. "Our partnerships with hospital systems, such as UVA Health and Carilion Clinic, help make that a reality."
The news comes as Thursday, Sept. 21, is recognized as National Opioid Awareness Day and September is National Suicide Prevention Month.
The 24-month research grant from the NIH's National Institute on Drug Abuse builds upon ongoing validation work with Carilion Clinic, allowing BEAM to finalize the development and implementation of Beacon-OUD into primary care clinics as a digital assessment for providers.
"We are seeing a remarkable demonstration of the transformative power of academic research that translates into implementation that is now directly contributing to improved patient health care delivered in the clinical setting," said Michael Friedlander, executive director of the Fralin Biomedical Research Institute and Virginia Tech's vice president for health sciences and technology. "This company has emerged from the institute through the fundamental hard scientific work of Dr. Snider and her then postdoctoral mentor, Dr. Warren Bickel, and has now achieved a remarkable milestone with a prestigious technology transfer NIH grant. It is a fitting example of research transcending academia, industry, and the public health while addressing pressing societal issues with the ultimate goal of changing lives for the better and enhancing health care."
BEAM will now work with UVA Health to further validate the technology and interface with UVA Health's electronic medical record system, making the tool accessible to providers and patients.
"We care for patients with chronic pain who require opioids, which carry a risk of addiction. We plan to use Beacon-OUD to help us identify our patients who are at higher risk for opioid use disorder and provide better care," said John Day Gazewood, Harrison Medical Teaching Associate Professor of Family Practice, residency program director, and vice chair of UVA Health's Department of Family Medicine.
BEAM was founded in 2017 by Snider, a former postdoctoral associate at the research institute, and Bickel, a professor at Virginia Tech's Fralin Biomedical Research Institute and the Department of Psychology of the College of Science. He is the director of the institute's Addiction Recovery Research Center and its Center for Health Behaviors Research.
"Behavioral and mental health care is often reactive, and treatment is sought after chronic disease has set in," Snider said. "By demonstrating how impactful preventative screening can be to patients and providers, this work takes us closer to making proactive, patient-centered healthcare the industry standard."