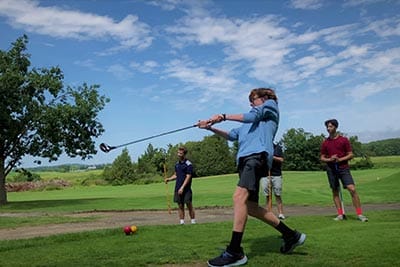 The Virginia FlingGolf Open will be played in Harrisonburg and McGaheysville on Oct. 22-23. FlingGolf is an emerging sport, with its first national tournament broadcast on ESPN2 in August 2022.
The Virginia FlingGolf Open will be the second national tournament for the sport, featuring an individual tournament on Saturday, Oct. 22 at Heritage Oaks Golf Course in Harrisonburg and a first-of-its-kind team event on Sunday, Oct. 23 at Woodstone Meadows Golf Course at Massanutten Resort in McGaheysville. An individual skills challenge is also planned for Sunday.
More players have pre-registered for this tournament than the first national tournament. Cash prizes will be awarded for 1st, 2nd, and 3rd place finishes in all three events.
Virginia FlingGolf Open brainchild of two Harrisonburg residents
The Virginia FlingGolf Open is the brainchild of Michael Alexiou and Adam Copeland, both FlingGolf players who live in Harrisonburg.
Copeland competed in the May tournament in Delaware, finishing 9th in the Longest Flingshot Championship and 20th in the stroke-play event, the New Swarm Open.
His 10-year old son also competed in the LFC; he was the youngest competitor in the event and set a personal record throw of 118 yards.
Following the tournament, Alexiou and Copeland began discussions about hosting a tournament in the Shenandoah Valley, believing the location, timing, and courses to be primed for such an event.
Copeland and his family began playing FlingGolf locally at Bryce Resort and Massanutten Resort a little more than a year ago.
"We'd never visited any of the golf courses in our area, prior to picking up FlingGolf. Now, we take our FlingSticks almost every trip we make," said Copeland in a testimonial on the FlingGolf website. "It's a great thing to do as a family, to be outside, enjoy some of the beautiful golf courses in our area, and learn something new. This event will showcase so much of what makes our area a great place to live and to visit."
Finding the sport of FlingGolf
Alexiou started playing a couple of years ago, on the recommendation of one of his patients. He worked with Massanutten to start a FlingGolf League this summer on Tuesday afternoons.
"FlingGolf has many advantages over traditional golf. It's easier to learn, faster to play, and can be combined with team play or exercise. Having the best players in the country coming to the Shenandoah Valley to compete will be a spectacular event to host and enjoy."
Massanutten Resort was one of the first courses in the country to adopt FlingGolf, bringing FlingSticks to the resort in 2015.
"We chose FlingGolf because it was less disruption on the golf course. You play it with a golf ball and you play it with a stick that looks like a golf club, so for us, it was the perfect choice," said Bret Mowbray, PGA golf professional and director of golf operations at Massanutten Resort.
FlingGolf can be played on any golf course, but instead of hitting a golf ball with a club, you use a single New Swarm FlingStick for every shot, including putting; players use the FlingStick to hurl the ball towards the green with various throwing styles, including those similar to lacrosse, baseball, and golf.
Like traditional golf, players are attempting to get the ball in the hole in as few strokes as possible; unlike traditional golf, only one FlingStick is required, allowing faster play and less damage to courses, among other benefits. It is a sport that is easy to start and fun to master.
FlingGolf has been played by nearly 100,000 people across 32 countries and on at least 1,400 golf courses around the world.
To find out more about FlingGolf, go to flinggolf.com
For more information on the Virginia FlingGolf Open, visit flingvalley.squarespace.com