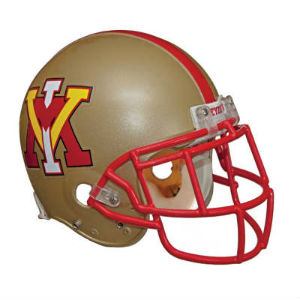 VMI redshirt junior quarterback Al Cobb (Pulaski, Tenn.) was named to the preseason first team All-Southern Conference squad and was joined by four other Keydets who earned spots on the teams announced Wednesday at the league's Media Day event.
Also named to the first team were senior wide receiver Aaron Sanders (Stafford, Va.) and senior return specialist Dane Forlines (Richmond, Va.). Senior offensive lineman Andrew Lewis (Snellville, Ga.) and redshirt junior linebacker Ryan Francis (Knoxville, Tenn.) landed spots on the second team.
In just two seasons, Cobb owns four of the top six passing yardage games in VMI history and has six career games of 300 or more yards passing and holds the career mark for most 200-yard passing games (15). Cobb ranks second on the VMI career passing list with 5,707 yards with 505 completions and 34 touchdowns and in 2016 led the Southern Conference in passing yards per game (273.6) and total offense (289.1) and threw for 2,736 yards (2nd highest season in VMI history). His 14 touchdowns in 2015 tied him for the second most among SoCon QB's in that category.
Sanders was named 2015 first team All-Southern Conference Coaches and Media teams and led the Southern Conference in receiving yards per game (81.1) and receptions per game (7.6). Sanders caught a school season record 84 passes for 892 yards in 2015 and set a new school season mark that surpassed Mark Stock's 73 catches in 1988. He also set a new single game record for receptions in a game when he hauled in 16 catches for 218 yards against Mercer Oct. 24 and the receiving 218 yards against Mercer was the third highest total in VMI history and earned him SoCon Offensive Player of the Week honors.
Forlines was named 2015 All-Southern first team (Coaches and Media squads) at return specialist , ranked second in the Southern Conference in all-purpose running with 112.2 yards per game and led the SoCon in punt returns averaging 12.9 yards per return. As a receiver in 2015, Forlines complied three 100-yard receiving games on the year (9-101-Morehead State), (7-106-Samford), (9-140-Western Carolina) and made a clutch reception to set up the game winning 34-yard field goal against Morehead State September 12.
Francis was named 2015 second team All-Southern Conference at linebacker as selected by the media and led the team in tackles with 115 total stops including 54 solo hits which also topped the team. He ranked third in the Southern Conference in tackles per game with 10.5 per contest and ranked second on the team in tackles for loss with 9.5 stops. Francis finished the season with career-high back-to-back 15-tackle efforts against The Citadel (10 solo hits) and Western Carolina.
Lewis is a returning starter on the offensive line and made a strong transition last year from tight end to interior line and stabilized the left side at the tackle position. Lewis played on 732 snaps on the season.
VMI opens up preseason practice August 8 and will open the 2016 campaign at Akron on September 3.