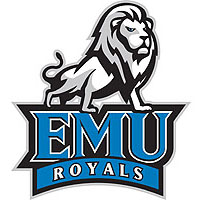 With the arrival of Winter Storm Jonas looming, EMU has postponed all of its scheduled athletic events for the coming weekend.
Men's Basketball
The Runnin Royals had the only home game scheduled.  Saturday's ODAC date with Hampden-Sydney has been rescheduled to Monday evening, also with an early start time at 6:00pm.
Women's Basketball
EMU's women were slated to head south on I-81 to play at Emory & Henry.  That road game is now rescheduled for Monday at5:00pm.
Men's Volleyball
The volleyball men's first road matches of the season are canceled.  No makeup dates are set for the contests at King and Lees-McRae, both D-II schools.
Track & Field
The men and women were geared up to start their post-Christmas portion of the indoor season at the CNU Captains Invite and Combine Events in Newport News.  The teams will not travel this weekend, regardless of the status of the meet itself.
Check back at www.emuroyals.com for further updates, or follow EMU Athletics on Facebook and Twitter.