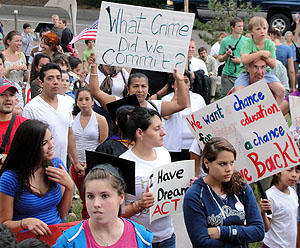 Isabel wanted to create an impression on her visit to Washington, so she had members of the group there to lobby Sen. Mark Warner for support for the DREAM Act to wear their graduation caps.
"We weren't sure if we would actually be able to meet with him one-on-one," she said. But the senator was on hand for the meeting, and "he definitely took notice."
"When he came into the door, he said, Congratulations to the graduates," said Isabel, who is heading up a local effort based in Harrisonburg-Rockingham to drum up support for the DREAM Act.
The acronym stands for Development, Relief and Education for Alien Minors. Isabel, who asked us not to use her last name, or give particulars related to her schooling, was an alien minor under the definition of the legislation, coming to the United States and specifically the Harrisonburg-Rockingham area, when her parents moved her family here nearly 19 years ago.
She started in school here in the first grade and was a solid student and on track to college when she realized that she would have a major stumbling block ahead of her.
"Junior year, senior year, you start to hear everybody talking about where they wanted to go to college, where they got accepted, and then you look at it, and you realize, I don't have that famous nine-digit number," she said, referring to a Social Security number.
"I couldn't apply for any scholarships or grants or financial aid. I couldn't even apply to a college or university," Isabel said.
The National Honor Society member and 4.0 student had heard from her parents from an early age that they considered education to be of utmost importance.
"That's why they brought us here, for the opportunity for us to advance so that we wouldn't have to work long hours in a poultry plant to be able to support our families," Isabel said.
She worked as a waitress for a year after high school before learning that she could enroll in an unnamed local college toward a college degree. She graduated in three and a half years with a degree in social work before running into her next road block.
The lack of that nine-digit number would prevent her from being able to use that degree. She fills her days babysitting and interpreting.
"I want to be able to use my degree and use what I've learned to give back to my community," Isabel said.
The DREAM Act, a bipartisan piece of legislation coauthored by Utah Republican Sen. Orrin Hatch and Illinois Democratic Sen. Dick Durbin, would impact the estimated 65,000 children of undocumented workers who graduate from U.S. high schools annually by opening to them eligibility for a six-year-long conditional path to citizenship that requires completion of a college degree or two years of military service.
The bill seems to have the backing of both Warner and Virginia's senior United States senator, Jim Webb. Warner spokesman Kevin Hall told AugustaFreePress.com that the senator "supports the intent of the DREAM Act and would be inclined to vote yes" on it. Webb spokesman Will Jenkins noted in his response to a query from the AFP that Webb has voted in the past in favor of the DREAM Act "because it gives a narrow, one-time window for a limited number of young people to apply for their green cards."
Advocates like Isabel are hoping to push Congress to a vote on the DREAM Act before their summer recess next month.
"If we lose this opportunity, we probably lose the chance to see this passed this year," Isabel said.
That's another year for Isabel and thousands like her to see their dreams unfulfilled.
"I've been here 19 years of my life. My parents have paid taxes all these years. It's just not fair," she said. "We've grown up here. This is home to us. We feel like we are Americans, just not on paper."
 
 
Story by Chris Graham. Chris can be reached at [email protected].