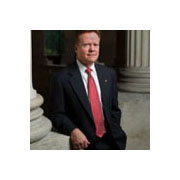 Jim Webb, Democrat from Virginia, who earns plaudits for his work on efforts to end economic injustice, is apparently willing to mess on his own legacy with a vote in favor of continued injustice involving discrimination against gays and lesbians serving in the U.S. armed forces.
Democratic leaders are said to be counting Webb as a no vote against blocking a promised Republican filibuster this week on legislation that would end the so-called don't ask, don't tell policy that enforces workplace discrimination in the military.
Webb himself has been mum on the issue since a May 27 statement defending his no vote against an amendment repealing don't ask, don't tell. In the statement, Webb explained his vote by referencing the ongoing review of the policy by the Department of Defense.
"I have met personally with the officials in charge of this review, and communicated my own observations regarding the comprehensive survey that will be a part of this review," Webb said then. "I see no reason to pre-empt the process that our senior Defense Department leaders put into motion, and I am concerned that many members of the military would view such a move as disrespectful to the importance of their roles in this process."
Link to report on WhenVirginiaWasBlue.com.