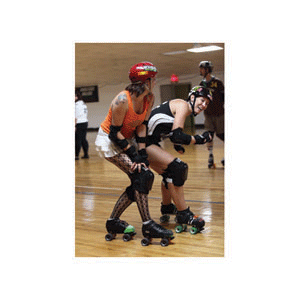 Roller derby definitely isn't for the faint of heart – or short of breath.
Just try getting through a practice with the Rocktown Rollers. It begins with a drill that has the Rollers skating around the rink and changing positions every 10 then five then three seconds.
"We started out with five girls in the beginning. Now look at what we have grown to," said Rollers coach Thom "Troch" Metroka. "We have four girls learning the basics, 18 girls doing regular practice and then a referee squad of six to eight."
The Rollers, based in Harrisonburg, are working their way into big-time roller derby. In July, the Rollers were accepted into the Women's Flat Track Derby Association's apprentice program. The apprenticeship is a year-long program dedicated to helping new teams become full members of the WFTDA league.
Link to story on TheNewDominion.com.