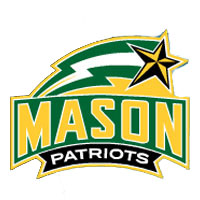 George Mason took the lead over Davidson with 5:33 left to play in regulation and led by six with 21 seconds left, but the Wildcats hit two triples in the final seconds to force overtime. Davidson outscored the Patriots 15-8 in overtime to capture an 80-73 comeback victory Saturday night.
Shevon Thompson hit the front end of a pair of free throws with 21 seconds to give Mason a 65-59 lead, but Oskar Michelsen cut Davidson's deficit in half with a three-pointer nine seconds later. Mason missed an opportunity to push it back to a two possession game on a failed trip to the free throw line, leaving Davidson 12 seconds to tie the contest. As time wound down, Brian Sullivan hit an off-balanced, contested three-point shot from the top of the key to force overtime at 65-65.
Davidson won the tip in overtime and scored the first five points before Mason got on the board when Jalen Jenkins hit a pair of free throws at 2:29 for a 70-67 ballgame. But Mason would be held scoreless over the next two minutes while Davidson pushed its lead out to nine points before Myles Tate hit his second triple of the evening off the bench for a 76-70 score with 24 seconds remaining. Sullivan added to the Wildcats' lead at the charity stripe as Tate hit Mason's final bucket, another triple, with 18 seconds to play. Michelsen would close the game with a pair of free throws for the final 80-73 victory.
Mason shot 40.9 percent for the game led by Marquise Moore with 18 points and Thompson's ninth double-double of the season with 15 points and 15 rebounds. Isaiah Jackson added 11 points to the scoreboard as Tate finished with nine points. The Patriots out-rebounded the Wildcats, 43-35, and outscored Davidson in the paint, 32-20.
Davidson was led in scoring by Michelsen with 20 points as Kalinoski contributed 18 and Sullivan added 17. The Wildcats went 21-for-30 from the free throw line to Mason's 14-for-20 effort and shot 44.6 percent for the game while hitting nine three-pointers.
Mason closes out this two-game homestand welcoming Saint Louis on Thursday at 7 p.m. for an A-10 Network contest.