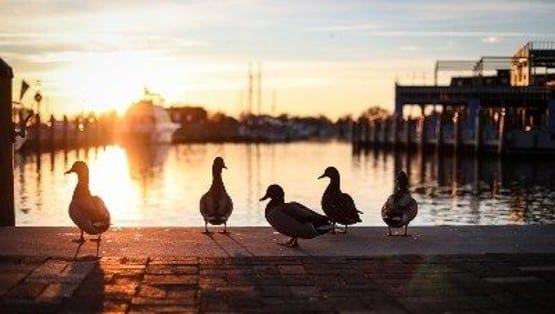 The Chesapeake Bay SEEE Act would help protect the watershed, improve ecosystem management and increase environmental stewardship opportunities.
Congressman Rob Wittman of Virginia, U.S. Rep. John Sarbanes of Maryland, Rep. Robert C. "Bobby" Scott of Virginia and Rep. Jen Kiggans of Virginia reintroduced the Chesapeake Bay Science, Education and Ecosystem Enhancement (SEEE) Act today.
"The Chesapeake Bay is integral to our way of life in Virginia's 1st District and conserving our coastal and marine ecosystems has remained one of my top priorities," Wittman, co-chair of the Chesapeake Bay Watershed Task Force, said. "I am proud to join my colleagues in this effort to expand environmental education opportunities, boost state and local restoration efforts and provide NOAA with the resources it needs to protect this national treasure."
Companion legislation in the U.S. Senate is led by Virginia Sen. Mark R. Warner, which he will introduce in the coming weeks.
"This bipartisan effort will help support the critical work of NOAA's Chesapeake Bay Office (NCBO)," Sarbanes, co-chair of the Chesapeake Bay Watershed Task Force, said. "The SEEE Act builds on successful, established Bay protection programs that invest in federal, state and local partnerships to safeguard ecosystems, promote sustainability, bolster climate resiliency and increase access to environmental education and stewardship opportunities. I was pleased to see this legislation pass out of the House Committee on Natural Resources in the 117th Congress and will work hard to deliver it to President Biden's desk in the 118th Congress."
Key provisions of the legislation include:
Reauthorizing the NOAA Chesapeake Bay Office, which has been a leading partner in the Bay restoration effort and to the fishery community;
Directing NOAA to support coordinated management, protection, characterization and restoration of Bay habitats and living resources;
Authorizing the Chesapeake Bay Watershed Education and Training (B-WET) program to help connect residents to the Bay; and
Providing critical resources for the NCBO to fulfill its mission and enhance the Chesapeake Bay region.
The Chesapeake Bay Commission, the Chesapeake Bay Foundation, the Chesapeake Conservancy and the Choose Clean Water Coalition support the legislation.
"I am proud to support the SEEE Act and NOAA's ongoing work to restore the Chesapeake Bay. This legislation will support sustainable fisheries, habitat restoration and climate resilience work throughout the watershed, and the bill will also provide engaging and educational Chesapeake Bay experiences for our youth," Scott, Co-Chair of the Chesapeake Bay Watershed Task Force, said.
Kiggans said, as a coastal Virginian, the Chesapeake Bay "is an invaluable part of our everyday lives. From our vibrant aquaculture to our bustling tourism industry, our Commonwealth relies so much on the Bay. I'm proud to join my colleagues to introduce this legislation which will ensure we continue to take care of the coastal waterways that take care of us!"