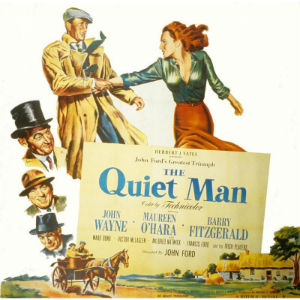 Experience movies in grand style – the way they were meant to be! Watch great classic films shown on the big screen at the Historic Wayne Theatre/Ross Performing Arts Center every Monday beginning March 14.
The 7 p.m. screening will include a brief introduction, short intermission, and optional film discussion afterwards led by The Classic Cinema Club.
"We are thrilled to be a part of this exciting weekly event which will be a treasure trove for film fans everywhere," said Jimmy Overton of The Classic Cinema Club.
The first screening will be "The Quiet Man." Starring John Wayne, this 1952 film is set in the countryside of Ireland and is perfect for showing near Saint Patrick's Day. The Oscar winning film is an engaging tale of an Irishman, raised in America, going back home to escape his past. Director John Ford returns to his roots, going on location to tell the story of a man who finds love, adventure and hope in this charming romantic comedy.
"Make plans to join us each Monday night to enjoy these classic films up on the big screen where they belong in the beautifully restored Wayne Theatre," Overton said.
The screenings will be Pay What You Will admission during the Preview Season at the Wayne. No advance tickets are required.
The historic Wayne Theatre is located at 521 West Main Street in downtown Waynesboro.
For more information, call 540-943-9999 or visit www.waynetheatre.org