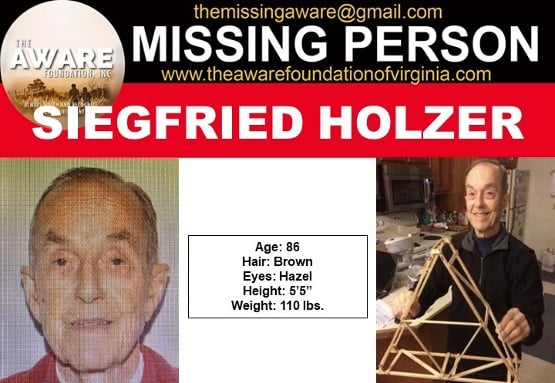 The Christiansburg Police Department is attempting to locate a missing 86-year-old male.
Siegfried Holzer left his residence on Feb. 22 to go to a local store but never returned. After realizing he had not checked in with his family, they were able to activate the GPS on his vehicle and observed it to be traveling out of the area.
Law enforcement was able to track his vehicle to a location in Hardy, W.Va. The Hardy County Sheriff's Office found his vehicle in the Old State Route 55 in Baker, W.Va., on Feb. 22 around 10 p.m., but Holzer was not located.
He was last seen wearing blue jeans, blue tennis shoes, and an orange, maroon, and white Virginia Tech jacket.
There is a $10,000 reward for information leading to the successful location and recovery of Siegfried Holzer.
If you have any information on his whereabouts, contact the Christiansburg Police Department at 540-382-4343.