Carded Graphics, one of America's leading manufacturers of paperboard packaging, will announce faster than expected company growth at an expansion dedication ceremony for new investment and job creation at the company's Staunton facility.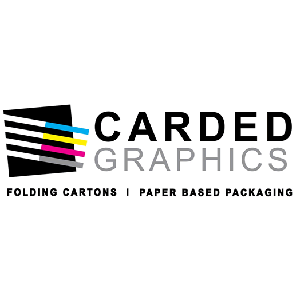 The dedication ceremony will take place from 3:30 to 6:30 p.m., Thursday, November 7th at the company facility at 2 Industry Way in Staunton. The presentation will be at 4 p.m. Virginia Secretary of Commerce and Trade Jim Cheng will join company and community officials at the dedication ceremony. Also attending will be Virginia Delegates Dickie Bell and Steve Landes and Drew Dunsmore, representing U.S. Senator Mark Warner.
Carded Graphics was awarded a Virginia Governor's Opportunity Fund grant to assist with the latest expansion. After a welcome and remarks from Secretary Cheng, Carded Graphics President and CEO Murry Pitts will announce that the expansion is ahead of the schedule specified in the GOF grant award. The program will be followed by a ribbon cutting and tours of the facility for invited guests.
Prior to the expansion announcement on Sept. 12, 2012, Carded Graphics LLC had been evaluating a number of locations for its expanded manufacturing facility. With the City of Staunton and the Commonwealth of Virginia's support, Carded Graphics decided to maximize its existing facility in the Green Hills Industry and Technology Center by converting warehousing space into manufacturing space.
Carded Graphics began this project immediately after the expansion announcement. The company committed to create at least 34 new jobs within 36 months and, in just over a year, has already hired 22 jobs. Carded Graphicsalso committed to invest $7.05 million within 36 months, and, to date, the company has exceeded that goal with $7.2 million in new equipment investment.
Pitts will highlight the strides made by Carded Graphics to re-position the company as a leader of innovative design and packaging technology in the national paperboard packaging industry. In 2006, Pitts acquired Carded Graphics LLC in Staunton and merged the assets of Pell Paper Box, previously based in Elizabeth City, NC, into the Staunton operation. When he purchased Carded Graphics, LLC the plant employed 31. Today Carded Graphics LLC employees over 110 people in a 120,000 square foot manufacturing facility, more than twice the size of the facility that Pitts acquired. The Staunton location includes corporate offices and production facilities.
In addition, Carded Graphics LLC has sales offices in Virginia, Pennsylvania, Ohio, Maryland, North and South Carolina and Florida.
"I am pleased that the partnership between Carded Graphics and the Staunton community has allowed us not only to grow our presence in the Shenandoah Valley, but has also enabled our team to move Carded Graphics into the upper echelon of American companies providing product marketing design and the production of innovative packaging solutions that give our customers an edge in product shelf displays. Support from the community and the performance of our employees have been key to our ability to grow."
Staunton Mayor Lacy King is enthusiastic about this latest expansion. "Not only is this an existing business expansion for Virginia, thus adding jobs and investment to the Virginia economy, but Carded Graphics is also keeping its current workforce in Virginia and retaining and expanding the machinery and tools tax revenue for the City of Staunton," King said.
With a population of 23,746 and a local unemployment rate of 5.7 percent (August 2013) Staunton works hard to recruit and retain quality manufacturers like Carded Graphics. With the help of the Governor's Opportunity Fund grant, Carded Graphics committed to this expansion project, resulting in new, quality jobs paying well over Staunton's prevailing average wage of $29,694. Carded Graphics also offers a generous benefits package including health insurance and retirement.
Staunton City Manager Steve Owen said that Carded Graphics is the type of successful manufacturer that Staunton is proud to support. "Their creative corporate leadership, foresight to stay ahead of trends in the global packaging industry, and willingness to invest in their facilities is everything we could hope for."