By Mark Grabowski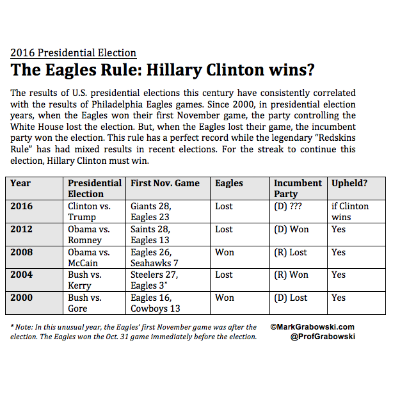 Forget the "Redskins Rule." The Philadelphia Eagles now appear to be the better predictor of presidential election outcomes.
If you're superstitious, that is. But what sports fan isn't a little bit?
Since 2000, in presidential election years, when the Eagles won their first November game, the party controlling the White House lost the election. But, when the Eagles lost their game, the incumbent party won the election.
In other words, when Philadelphia wins, the political underdog wins. When Philly loses, the challenger also loses. That's bad news for Donald Trump, the Republican candidate who's seeking to become president after Democrat Barack Obama's two terms in the White House conclude.
The Eagles fell to the New York Giants Sunday 28-23. Based on the rule, Democrat presidential candidate Hillary Clinton will win Tuesday'selection.
The Eagles Rule has a perfect record this century, having accurately predicted the past four presidential elections. Meanwhile, the legendary "Redskins Rule" has had mixed results in recent elections.
According to the Washington Post, the Redskins Rule was discovered shortly before the 2000 election by Elias Sports Bureau executive vice president Steve Hirdt, who was looking for an interesting election-related statistic for announcers to share during the game between the Washington Redskins and Tennessee Titans. His research found that when the Redskins won their final home game before the election, the incumbent party remained in control of the White House. But, when the Redskins lost their final home game before the election, the opposition party won the presidency.
The Redskins Rule had quite a streak, correctly predicting the result of the first 15 presidential elections since 1940, which was the first election after the Redskins moved to Washington, D.C. It failed to hold true in the 2004 and 2012 elections, however, leaving the new Eagles Rule as the better, modern day predictor of presidential elections.
In another interesting coincidence, the Redskins defeated the Eagles this year in their final home game before the election. That means, both the Redskins and Eagles performances predict a Clinton win this election.
But, of course, that's only if you believe there's more than just pure coincidence to all of this. I certainly don't believe the Eagles have the ability to drive incumbents out of office – and I invented the rule!
Mark Grabowski is a law professor and former political journalist who regularly writes on current events. For more info, visit professorsperspective.com.